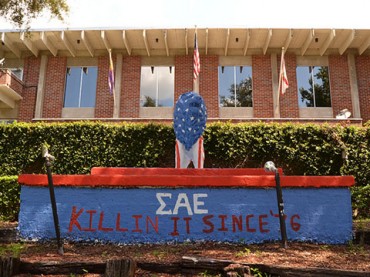 The University of Oklahoma appears to be asking for a lawsuit, because it just expelled two students for their speech on a bus.
President David Boren confirmed today that he acted against those two students, who allegedly led the chanting of a racist song, because they created "a hostile learning environment" on the way to a fraternity event.
The fraternity chapter has already been kicked out of Sigma Alpha Epsilon and lost its university house.
Boren fixates on the fact that the leaked video of the chanting went viral. His press release states that the chant on the bus "also impacted the entire university community as it was also distributed through social media."
The president called for "zero tolerance" toward "threatening racist behavior" on campus or anywhere in "the entire nation." The school will continue to investigate other students who appeared to be participating in the chant, and "they will be subject to appropriate disciplinary action."
I have acted today to expel two students who were leaders in the singing of a racist chant. See press release – DBo pic.twitter.com/VypOiVqXi7

— David Boren (@President_Boren) March 10, 2015
The Oklahoma Daily identified one of the expelled students as Parker Rice, a freshman from Dallas and graduate of a Jesuit prep school.
Boren's move, even before it was confirmed, drew backlash from First Amendment experts.
UCLA law professor Eugene Volokh wrote in the Washington Post that the school is running headlong into decades of legal precedent that "universities may not discipline students based on their speech":
The university president wrote that the students are being expelled for "your leadership role in leading a racist and exclusionary chant which has created a hostile educational environment for others." But there is no First Amendment exception for racist speech, or exclusionary speech, or … for speech by university students that "has created a hostile educational environment for others."
Volokh continues that the speech called "threatening" by Boren wouldn't be perceived as a "true threat" against any listener, and so is not grounds for expulsion.
The Foundation for Individual Rights in Education said the students can't be punished for their speech "unless there are more factors of which we are not yet aware":
As a private organization, the SAE national fraternity is free to punish the chapter, as it has done. Other citizens and groups are free to refuse to associate with the fraternity members based on their expression, and students, faculty, and administrators may of course condemn it. If the expression itself is evidence of other unlawful activity, such activity may be investigated. But the Supreme Court of the United States has ruled time and time again that government institutions like the University of Oklahoma may not punish people for expression protected by the First Amendment.
Like The College Fix on Facebook / Follow us on Twitter
IMAGE: Artie White/Flickr