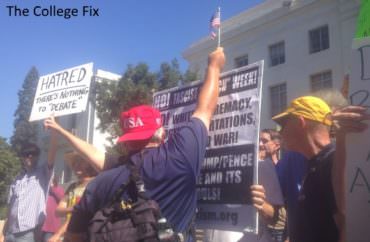 Our fall fundraising campaign runs through Sept. 30, so please consider a tax-deductible donation of any amount to help us continue to publish the best campus news in the nation. Thanks for your support!
Berkeley, Calif. — If anybody thought the cancellation of "Free Speech Week" would mean a quiet week at UC Berkeley, they assumed wrong.
For the fourth consecutive day, left and right-wing demonstrators descended upon campus on Wednesday afternoon to let their voices be heard and rally for their respective cause. What's more, police investigated a suspicious package on campus as the demonstrations took place. However, that package ended up being deemed as a non-threat.
UC Berkeley's campus has been a hotbed of activism this week despite the last minute cancellation of the much hyped "Free Speech Week," an event that was slated to host a cadre of right-wing speakers on campus.
Wednesday's demonstrations, located on the steps of Sproul Hall, started out contentiously as members from both sides attempted to speak over one another. That included a right-wing demonstrator yelling out the Pledge of Allegiance while an anti-fascist protester railed against the "fascist regime" in the White House. Individuals continued trading barbs with members from both sides accusing each other of being terrorists.
The groups on campus Wednesday included members from Patriot Prayer, a right-wing group that held a rally Tuesday at UC Berkeley, and the far-left groups By Any Means Necessary and Refuse Fascism.
At one point, conservatives chanted "USA" as leftists yelled out "No Donald Trump, no KKK, no fascist USA." Right-wing demonstrators later stood in front of their left-wing counterparts singing "We Shall Overcome" and holding up an American flag.
While the two sides dueled verbally, the demonstrations remained peaceful and police weren't forced to intervene.
However, police later formed a wall of separation between demonstrators and a group of students that were gathered nearby at a "Black Wednesday" event hosted by the Nigerian Student Association.
Wednesday's events are the latest in a string of demonstrations and protests held on UC Berkeley's campus this week. Far-left demonstrators held a "Berkeley Rally Against White Supremacy" on campus on Monday, during which activists blocked and harassed observers and reporters. On Tuesday, members of Patriot Prayer held a rally and march on UC Berkeley's campus.
And right-wing provocateur Milo Yiannopoulos, who was slated to headline the Free Speech Week events, made a brief appearance on campus on Sunday, a visit that included tensions among protesters and fans.
As the demonstrations took place Wednesday afternoon, police evacuated the southwest area of Sproul Plaza because of a "suspicious package." A security alert sent out around 12:45 p.m. said bomb technicians were investigating the package.
In addition to the southwest area of Sproul Plaza, the university's student union was evacuated. Police put up caution tape and police officers blocked off the area. At 1:21 p.m., the Alameda County Sheriff's Office tweeted that the package was "unfounded."
MORE: For third consecutive day, left and right-wing demonstrators clash at UC Berkeley
Like The College Fix on Facebook / Follow us on Twitter