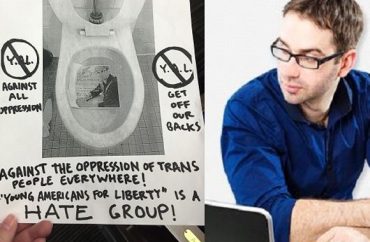 ISLA VISTA – Popular conservative Christian writer Matt Walsh's tagline is "Absolute Truths," and he offered his view on how such truths clash with the argument "gender is a choice" to a room full of college students recently in a speech so controversial — students set aside a "safe place" for those upset over its topic.
The "An Encroachment on Liberty: How the Left Exploits Transgender Laws" talk at UC Santa Barbara late last week was hosted by Young Americans for Liberty. In response, students organized a simultaneously timed "safe place" at a nearby church "for all who identify with or support the transgender community" to gather against "hateful, abusive and belittling statements and gatherings."
Yet several students who support transgenderism opted against hanging out at the safe place, instead protesting in front of the venue where Walsh spoke on Thursday. Those students distributed fliers with an image of Walsh being flushed down a toilet and the words "people against oppression of trans people everywhere" and "Young Americans for Liberty is a hate group," among other statements.
But Walsh, in his talk, said the entire transgenderism debate is based on lies, misguided desires and leftist narratives – not biological science.
Saying "I identify as" has taken the place of biological definitions of gender, Walsh said, adding these lines were established by God for a reason, and without them, liberty and truth are in danger.
"There is, to me, no greater expression of this collective insanity in our culture right now than our devolving understanding of gender," he said.
Walsh said transgenderism is a term invented by the left to push their gender narrative, which has become a "threat" to liberty. For example, the bathroom laws in North Carolina. The issue Walsh finds with these cases is that it "grants the state more God-like policy" because now, the federal government has the power to decide what gender is. This moves away from nature's indication of gender, which is demonstrated by a penis indicating a man and a vagina indicating a woman, he said.
"I don't feel comfortable raising my children in an environment where picking one's gender is like picking one of Baskin Robbins's 31 flavors," he quipped.
RELATED: Calif. students now given six 'gender identity' choices on college admissions applications
Walsh also touched on the well-documented high rate of suicide attempts, 40 percent, in transgender communities. Many people cite bullying as the cause of the staggering rate, but Walsh said he believes it stems from "self-hatred," not bullying.
To back up his claim, he pointed to the similarities in suicide rates in transgender communities between Sweden and Alabama, saying that if it had to do with bullying, lower suicide rates should be found in Sweden because of the higher level of tolerance there.
What's really driving the suicide rate, Walsh said, is their denial of their true selves.
"They can't accept the truth of themselves," Walsh said. "There is no hope or joy outside of truth."
The lecture did incur a fair amount of angry shouting from the audience, but the banter between Walsh and his detractors, while at times hostile, never escalated to the point that the event disintegrated.
During the question and answer session, one student asked Walsh for sources he used in the lecture, to which he responded: "You want evidence for something you already know?" — referencing his belief that gender is purely biological and manifests itself physically.
YAL UCSB chapter President Carlos Flores said the event aimed to "challenge mainstream policies and ideologies on the campus," hosted by a club which is full of "ideologically diverse people."
Like The College Fix on Facebook / Follow us on Twitter