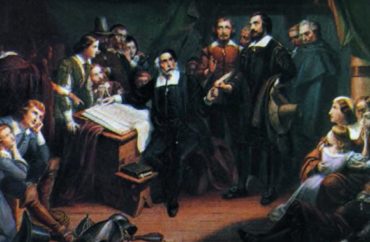 Students could read speeches by Governor Bradford, President Lincoln author suggests
College students should be educated on what the Pilgrims went through to survive when they came here — and there's a few ways universities can help them learn about our history.
I recently finished reading "Thanksgiving: The Holiday at the Heart of the American Experience," a new book by Melanie Kirkpatrick, a former editorial editor for the Wall Street Journal. I asked her for her thoughts on teaching and celebrating Thanksgiving.
"One of the saddest images in American culture is that of someone who has nowhere to go on Thanksgiving Day," Kirkpatrick told me through a media representative. "Universities that host Thanksgiving dinners for students who can't go home for the holiday would be in keeping with the long tradition of generosity and hospitality that are hallmarks of Thanksgiving."
She suggested that universities that host Thanksgiving dinners on campus should provide attendees with copies of Governor William Bradford's eyewitness accounts of the First Thanksgiving. She suggested Edward Winslow's eyewitness account and President Abraham Lincoln's 1863 proclamation.
I asked Kirkpatrick too how colleges can teach about Thanksgiving and what topics to cover.
She said:
1)The history of the Pilgrims' first year in Plymouth. Without the assistance provided by Native Americans, who taught the English settlers how to grow corn and introduced them to good fishing and hunting spots, the Pilgrims might not have survived. 2) The role of Sarah Josepha Hale, the remarkable magazine editor who championed the campaign for a national Thanksgiving Day. 3) President Jefferson's letter to a clergyman describing why he believed that the Constitution did not give him the authority to call a national Thanksgiving; that power, Jefferson argued, belonged to governors.
"I admire the words of Benjamin Franklin, who called Thanksgiving Day 'day of public Felicity,' a time to express gratitude for the 'full Enjoyment of Liberty, civil and religious,' Kirkpatrick told me, when asked for general comments on Thanksgiving.
Not everyone agrees with the former WSJ editor.
Foreign students complain about Thanksgiving
My son, due any day now, will be the 12th generation descendant of Governor Bradford, assuming I did the math correct. I'm sure he will still be fighting the same nonsense that we see today from people who criticize the Pilgrims.
Let's take two examples from a recent Oregon State University newspaper article that interviewed two foreign students on what they thought about Thanksgiving.
"Given the history of the holiday, if you put into perspective only the history—which I believe is the main perspective of this holiday—it should not be celebrated," Zeid Al Attar, an Iraqi student, told The Daily Barometer.
"Knowing today that all of the Native Americans and Americans live together, they must be more respectful," Alihan Baysal told the OSU paper. Baysal is from Turkey and is Muslim.
Attar, the Iraqi student, said the United States is "trying to ignore the fact that this nation was built on savagery and it came to life by slaughter. It was built on slavery and genocide and ethnic cleansing."
Ironic. Tone deaf. Let's take quick peek down the Iraqi, Turkish and Muslim histories and see how clean our hands come out — ope, very bloody and genocidal.
America is a beautiful country and plenty of people in our history have done some terrible things.
It doesn't mean that people, especially those who voluntarily chose to come here for some reason, should be bashing us for our history.
MORE: Students want to cancel Thanksgiving
IMAGE: The Story of Liberty/YouTube
Like The College Fix on Facebook / Follow us on Twitter