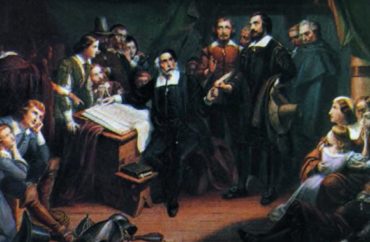 Exactly 400 years ago, a group of settlers, including the Pilgrims, landed in Cape Cod. It's the survival of those early colonists that we celebrate each Thanksgiving.
As usual, we can expect academics and commentators to howl about the Pilgrims and make false or misleading claims about these brave souls, labeling them as oppressors of Native Americans (if anything, the Pilgrims were just another group of people that would end up in conflict with the tribes).
But as a descendant of one of those Mayflower passengers, Governor William Bradford, I am proud to celebrate Thanksgiving this year and every year.
First, the Pilgrims were one of the first groups of settlers to successfully establish a working community in a new land. Though they at first struggled with a proto-version of socialism, the introduction of private property and the aid from the Native Americans helped them survive.
Second, they wisely created a set of rules to live by that would respect one another's individual freedoms.
MORE: Universities teach students how to 'decolonize' their Thanksgiving
As Peter Wood explains in the New York Post, in comparing the compact to the Declaration of Independence and Gettysburg Address:
The Mayflower Compact is a much humbler document than those two, but it has the advantage of being the first: the first time a mutually suspicious collection of settlers decided, without compulsion, to respect one another's rights. Plymouth enacted its own laws, elected its own leaders, and after a winter of severe hardship, thrived as a peaceful self-governing community.
Finally, Thanksgiving has grown to become a holiday that combines some of the best elements of American culture.
Football — check.
Carbs and fat-filled food — check.
Heated discussions about religion and politics — check.
As previously discussed, the enemies of Thanksgiving have a new ally in the public health community. They're agitating to stop the celebration of Thanksgiving because of coronavirus. Do not let those people stop you from celebrating Thanksgiving either.
American history is not perfect, it's often bloody, full of contradictions, and can leave teachers and historians torn into two false choice camps. People can feel torn between presenting a sanitized and oversimplified version of history or portraying the early settlers as genocidal maniacs who did not have the same values system as we do in 2020.
The opponents of Thanksgiving cite colonialism as a way to knock Thanksgiving and paint it as a racist holiday.
Oh if only the people in 1620 had the same understanding of the problems of colonialism that we are now so enlightened to know.
But they did not. The Pilgrims were seeking new opportunities and a chance to acquire property and achieve prosperity.
The Pilgrims should not be viewed poorly because they participated in the system of the days, which was moving to new lands to settle.
The Native Americans were not exactly peaceful people themselves — history is messy and bellicose and to pretend that white, Anglo-Saxon Protestants were the only ones complicit in that history is to bury one's head in the sand.
But instead of focusing on any of this, we should celebrate America and enjoy Thanksgiving.
MORE: Med school professor tells peers to stop scolding people for celebrating Thanksgiving
IMAGE: The Story of Liberty/YouTube
Like The College Fix on Facebook / Follow us on Twitter