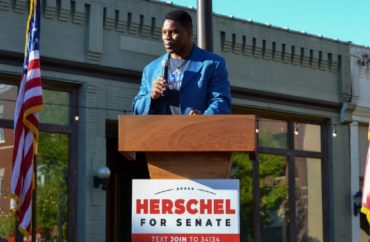 Walker uses Christianity as 'guise for his numerous depravities,' the journalism professor argued
Georgia Republican Senate candidate Herschel Walker is a "token black puppet of the GOP" and his campaign "shames Black Americans," according to Rita Omokha, a Nigerian-American writer and adjunct professor at Columbia University Graduate School of Journalism in a November 4 article for USA Today.
Walker is polling one point ahead of incumbent Raphael Warnock on November 8, according to FiveThirtyEight.
Walker is also a "verifiable unqualified man following the same playbook of the former, similarly inept president," Donald Trump, Omokha said.
"Since the rise of Donald Trump, the pursuit and upkeep of democracy is slipping away before our eyes, morphing into his vision of totalitarianism by way of misinformation indoctrination," Omokha wrote. "Walker's ascending candidacy, endorsed by Trump, has proved just that."
"The celebrity-turned-politician based on popularity and name recognition needs to end," Omokha continued.
The requirements for a Senate seat ought to be set higher, Omokha stated. "We ought to have stricter rules," she said, suggesting testing candidates' knowledge of the Constitution.
Additionally, Omokha — who describes herself as "someone of Christian faith" — claimed Walker uses his Christianity as a "guise for his numerous depravities."
A woman who claimed to have a decade-long relationship with Walker stated that the football player pressured her to get an abortion in 1993 and paid for it, according to the Washington Examiner.
"The Republicans' new playbook" dictates that "bad people behaving badly has become on brand with American conservativism," Omokha wrote.
Moreover, Walker "symbolizes" the worst stereotypes of Black men and has been championed as a "pervasive caricature" by Republicans, according to Omokha. Georgia voters, predominantly white, "love all of it."
"Now, conservatism is synonymous with tyrannical oppressors and criminals," the professor concluded.
MORE: 'Anti-racist' professor calls Herschel Walker 'subliterate,' uses racial slur
IMAGE: Herschel Walker for Senate/Twitter
Like The College Fix on Facebook / Follow us on Twitter