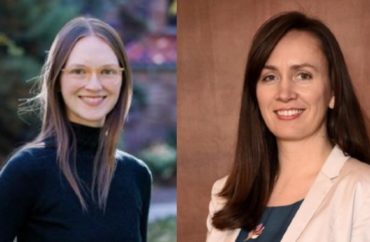 Study attempts to link 'oppression' with birth outcome; finds oppressed babies still come out healthy
Four university researchers recently released a paper that sought to determine if "structural heteropatriarchy" could be linked to lower birth weights and premature babies.
"Multivariate regression analyses demonstrated that higher levels of heteropatriarchy were associated with an increased risk of preterm birth and decreased birth weight," the researchers wrote. They broke down the country by county and state to determine the most and least heteropatriarchal areas.
The researchers also stated that "exposure to heteropatriarchy—even if only in early life—has negative consequences for birth outcomes."
Paper authors include University of Utah sociologist Bethany Everett, University of Colorado Boulder sociologist Aubrey Limburg (pictured, left), Florida State University sociologist Patricia Homan (pictured, right) and Columbia University social scientist Morgan Philbin.
But data provided in the paper, titled "Structural Heteropatriarchy and Birth Outcomes in the United States," shows that the smallest babies measured still weighed in at a healthy weight.
The Centers for Disease Control and Prevention defines "low birthweight" as less than two and a half kilograms or five and a half pounds. It's the same standard used by Stanford Children's Health.
"Results show that the predicted birth weight for an infant born under the lowest level of heteropatriarchy is 3.38 kg [7.45 pounds], while it is 3.22 kg [7.09 pounds] at the highest level of heteropatriarchy," the paper stated.
"Results for the clinical cutoff of low birth weight were not significant," the researchers reported.
In other words, babies born under the "highest level of heteropatriarchy" would still be predicted to weigh over seven pounds. The preterm birth rates were low for women in low and high heteropatriarchal areas.
"For births reported by women living in contexts with a score of 1 on our heteropatriarchy scale, the probability of reporting a preterm birth is .08," the researchers wrote. This is "less than half of the probability of reporting a preterm birth among women living in states at the high end of the heteropatriarchy scale."
The national average preterm birth rate is 10 percent.
MORE: Ethicist challenges claim that asking for pronouns reduces suicide
The paper defined a heteropatriarchy as "a system of oppression designed to reproduce and reinforce the dominance of heterosexual cisgender men." The researchers hypothesized that "higher levels of heteropatriarchy will be associated with increased risk of adverse birth outcomes."
In order to examine the strength of this correlation, researchers "developed a composite measure of structural heteropatriarchy—which includes state-level LGB policies, family planning policies, and indicators of structural sexism."
The "indicators of structural sexism" cited in the paper include, at the county-level, the "[percentage] of votes cast for Republican president," state-level abortion policies and female labor force participation rate. It also took into account the "proportion of conservative [religious] denomination adherents."
Their results show that, while there is a slightly lower birth weight among areas that fall under the highest level of heteropatriarchy as defined by the researchers, the figure is still within the healthy range.
Paper explains that 'no association' means that everyone is affected
The research team said this is proof that structural heteropatriarchy affects all "pregnant people."
"There was no association between clinical low birth weight and heteropatriarchy, or interactions between heteropatriarchy and individuals' race, ethnicity or sexual identity," the paper stated. This suggests "a negative effect of heteropatriarchy on birth outcomes for all pregnant people."
The four researchers have not responded to two requests for comment sent in the past three weeks that asked for clarification.
The College Fix asked if there could be confounding variables at play, such as Republican voters living in poorer and more rural areas that do not have the same access to medical care as wealthier, liberal areas.
Women could be victims to patriarchy without knowing it, paper says
The paper states that "a pregnant person need not 'feel' their heteropatriarchal environment as potentially detrimental for themself or their pregnancy for that pregnancy."
"[F]uture research should consider additional ways to refine and expand the measurement of structural heteropatriarchy," the professors stated.
Other researchers have sought to link policing to lower birth weights, without ever identifying a single pregnant woman who had an adverse pregnancy outcome after coming into contact with a cop.
"[W]e did not (and would not have been able to) ascertain whether the pregnant people in our study had personal contact with the police before or during pregnancy," University of Minnesota Professor Rachel Hardeman stated in one paper on "racist policing practices."
Her research found that black and white Americans had higher preterm births in areas with frequent policing. However, black immigrants did not have similar adverse outcomes. She has received another $800K to study "racialized police violence" and "adverse reproductive health outcomes" from the National Institutes of Health.
MORE: LGBTQ+ students use identities to 'challenge conventional science'
IMAGES: University of Colorado Boulder; Florida State University
Like The College Fix on Facebook / Follow us on Twitter