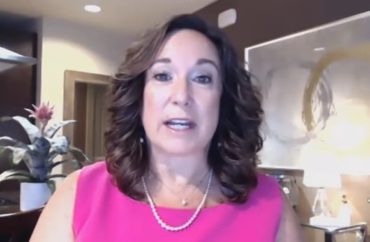 School board member implies the whole district accepts the concept
Regular College Fix readers may recognize the name of President Biden's nominee for deputy secretary of education, Cindy Marten.
As superintendent of the San Diego Unified School District, she forced teachers to go through "white privilege" training that literally told the white instructors "You are racist" and "You are upholding racist ideas, structures and policies."
According to a person who attended a later training and took notes and screenshots – recording wasn't allowed – the speaker, University of Georgia Prof. Bettina Love, went into her stock spiel about "spirit murder."
Both the anonymous attendee and Board of Education member Richard Barrera told Fox News that Marten didn't simply introduce Love, who founded the Abolitionist Teaching Network last year. Her introduction was "glowing" and "extremely complimentary."
"Spirit murder" also made an appearance in Seattle's white privilege training for teachers. It refers to Love's belief that schools murder "the souls of black children every day through systemic, institutionalized, anti-black, state-sanctioned violence."
While Marten didn't give her views on "spirit murder," Barrera told Fox News that he agrees with the amorphous concept:
When asked whether the district endorsed that concept, he said: "The work that we've done in the trainings … not only, of course, are supported by our district but are supported by our educators who are developing capacity to improve their ability to teach our students and they welcome it and they want more of it."
As with the Seattle training, the contents of the San Diego trainings were first exposed by Christopher Rufo, a documentary filmmaker who started investigating radical racial activism in public schools last year.
MORE: Seattle teachers indoctrinated in 'spirit murder'
He obtained "new whistleblower documents" earlier this month that showed the district hired Love for two trainings, including one for principals, in the past several months. Notes and screenshots from the "whistleblower" show Love arguing that public schools "don't see [blacks] as human," practice systemic "anti-Blackness" and "spirit murder babies."
It's not clear whether Rufo's whistleblower is the same person who talked to Fox News:
The unnamed attendee confirmed Rufo's reporting, which claimed that Love said public schools didn't see Black people as humans, were guilty of systemic "anti-Blackness," and "spirit murder babies." …

Screenshots from the training promote the idea of "abolitionist teaching," an idea pushed by the Abolitionist Teaching Network (ATN), which Love co-founded. The organization's "Guide for Racial Justice & Abolitionist Social and Emotional Learning," which was tweeted by Love, calls for the removal of "all punitive or disciplinary practices that spirit murder Black, Brown, and Indigenous children."

It also demands "reparations for Children of Color stolen by the school-to-prison pipeline" and warns that "social and emotional learning" "can be a covert form of policing used to punish, criminalize, and control Black, Brown, and Indigenous children and communities to adhere to White norms."
Barrera accused Rufo, also director of the Discovery Institute's Center on Wealth & Poverty and contributing editor at City Journal, of "trying to inflame the situation" and "get followers on a blog."
The school board member lumped in Rufo with "opportunists who are taking advantage of divisions in our country and spreading misinformation," even though Rufo obtained hard evidence of the San Diego trainings.
Barrera couldn't explain why recording was banned during Love's presentation, as made explicit in a screenshot taken by the attendee. He mused that "I don't know whether that's true" or whether it was a boilerplate copyright notice.
Read the Fox News and Rufo reports.
MORE: San Diego public school teachers forced to attend 'white privilege' training
MORE: Public school teacher forces 3rd graders to acknowledge their privilege
IMAGE: CBS 8 San Diego/YouTube
Like The College Fix on Facebook / Follow us on Twitter