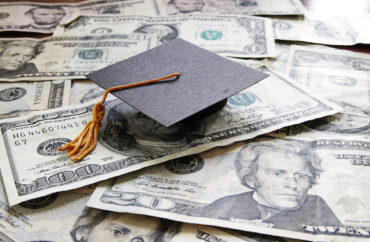 Why is college so expensive, and why do people keep paying it? Those are two-questions taken up in a new report that raises alarm bells about the future of higher education in America.
The average cost of college, adjusted for inflation, has more than doubled since 1980, leaving many young people to wonder how they'll afford it.
In 2018, students graduated with an average of $35,000 in unbankruptable student loan debt. Many take up to 20 years to pay it off.
Neetu Arnold, a researcher for the National Association of Scholars, has some answers for how this happened. She wrote a white paper titled "Priced Out" to explain why the cost of a college education has skyrocketed throughout the years.
College price inflation has several causes, according to the report, released in February. The main ones include consumer demands on universities, accreditation and federal regulations, and university ranking systems.
Paying for the college experience
Many universities make special and costly amenities available to students. They do this because prospective students consider much more than academics and finances when deciding on a college. Students also value highly social activities, location, and the overall "college experience."
Louisiana State University provided its students with an $85 million "lazy river" quasi-waterpark while "Temple University's Morgan Hall includes a flat-screen TV in every room," according to the report. MIT's Simmons Hall has a ball pit.
"Schools might invest in student life/residential services, remedial services, or fun activities like ziplines to entertain students who are either struggling or simply there for the experience. This, of course, contributes to rising costs," Arnold told The College Fix in an email.
"Administrators seem to think students regard a simple combination of bed, desk, and basement laundry machine as infra dig. Colleges are willing to cater to these expectations — and charge students accordingly," the report states.
College cafeterias have also become more lavish in recent years. Many offer foods from around the world with options for those on vegan or keto diets. At Cornell, chefs cook right in front of the students.
"These sorts of accommodations appeal to picky eaters and parents who worry about their children not getting the right food. Higher quality food generally attracts students — and makes money for colleges, who pass the bill on to their students. Board rates at 4-year universities have increased by 60% between 1986-2018," the report states.
Paying for regulations and position
Federal regulations, which colleges must follow to receive federal funding, put a big burden on universities, the report argues.
Many universities have compliance offers, who have high salaries. The Associate Vice Chancellor of the Equal Opportunity and Compliance Office at the University of North Carolina-Chapel Hill has a salary of $175,000 a year, for instance, while the Director of Compliance Services and Chief Privacy Officer at the University of Vermont has a salary of $145,656.
University ranking systems also plays a role in increased college tuition. Many parents and students decide where to attend school based on its place in U.S. News & World Report's ranking. Many schools base their tuition off of their position on the list, the report states.
Schools even manipulate their rankings by encouraging "unqualified students to apply so as to reject them," the report alleges. This makes the school's acceptance rate lower, and allows administrators to tout fierce competition to get in.
Schools go as far as sending fliers and emails to "students they will hardly ever admit" to increase their rejection rate to increase their selectivity, the report states.
Why students still attend
Despite the high financial costs, many students feel great parental and social pressure to attend expensive colleges. "They tend to regard college more as an insurance policy than an investment, a way to avoid perennial unemployment or 'flipping burgers at McDonald's'— the proverbial dead-end job," the report states.
Arnold's interviews with students as research for the report yielded a cornucopia of messaging that young students receive about colleges. Some go to college because they "want to be someone" as one interviewee stated. Others go because they believe without a college degree they may be unmarriageable, as another interviewee expressed.
Many parents view college as a rite of passage. They fear what will happen to their children without it. Many students say these concerns "indeed become the deciding factor in the decision of whether or not to attend college," the report states.
There has been a broader cultural shift as well at the K-12 level.
"In 1980, fewer than half of teachers and guidance counselors recommended top-performing students to apply for college. By 1990, more than half encouraged the lowest-performing students to apply," the report states.
No incentive to lower costs
Why has this broader shift toward college happened?
"There is this push for everybody to go to college, regardless of interest in higher education and ability. It doesn't help that more and more job opportunities are tied to a 4-year degree (regardless of whether the job actually uses material learned in higher education). I think that's why so many students and parents feel as if college is the safe path," Arnold told The College Fix.
Many students do not realize the weight of their student loans when they make the decision to go to college.
Arnold learned from student interviews that many are "more optimistic about their abilities to pay off loans and their job prospects until they are actually left with the responsibility."
She told The College Fix that universities have "no incentives to lower their costs" because students can take federally subsidized loans. And these loans make pricey colleges seem more affordable upfront.
Working in a broken system
Arnold urges prospective college students to consider the costs of what they are about to undertake.
"Students should have an idea of their ability to pay, their strengths, and their interests before applying to schools. Large-scale change will require a change in K-12 guidance counseling and parent advising to reflect these needs," she told The College Fix.
"I've discussed what students and parents can do to avoid debt, but the suggestions I provide help families work in a broken system," she said.
Arnold supports alternatives to college, though she knows that isn't always possible.
"Some people still need higher education. But some people just need work experience and some need a combination of both. And we need to do a better job at catering to citizens of varying interests and talents," she said.
MORE: Taxpayers shoulder tuition costs for Russian students to attend U.S. community colleges: report
IMAGE: zimmytws / Shutterstock.com
Like The College Fix on Facebook / Follow us on Twitter