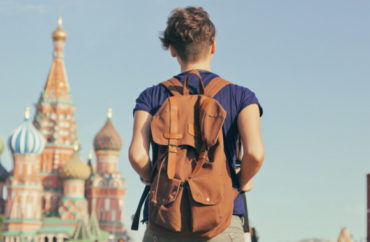 The State Department spent $3.25 million on a gap-year program that will send between 80 to 150 Russian students to American community colleges during the 2020-21 academic year.
The program looks to provide newly graduated Russian high school students with the opportunity to study at American community colleges, improve their English skills, and experience life with an American family. The program is set to last a full academic year, beginning in the fall of 2020.
Sen. Rand Paul (R-KY) recently documented the State Department's funding of the Russian gap-year program in his sixth annual "Festivus Report," which details wasteful federal spending at each calendar year's conclusion.
The report notes that the State Department has previously funded similar initiatives.
In 2015, the State Department spent $15.6 million to pay international students to attend American community colleges, enough money to pay for 2,330 semesters at an average-priced community college, according to Sen. Paul.
And in 2019 his office found the State Department spent $15.8 million to send a total of 390 international students to American community colleges across academic years 2019-20, 2020-21, and 2021-22.
Sen. Paul argues that the money spent funding international students gap-year programs would be better spent on American students.
"Currently, in-state public community college students pay an average yearly tuition of around $4,804. For comparison, the $3.25 million the State Department is looking to spend could cover the cost of one year of community college for 676 Americans, or it could pay for 338 Americans to get their associate degrees on full scholarships," Sen. Paul said in his report.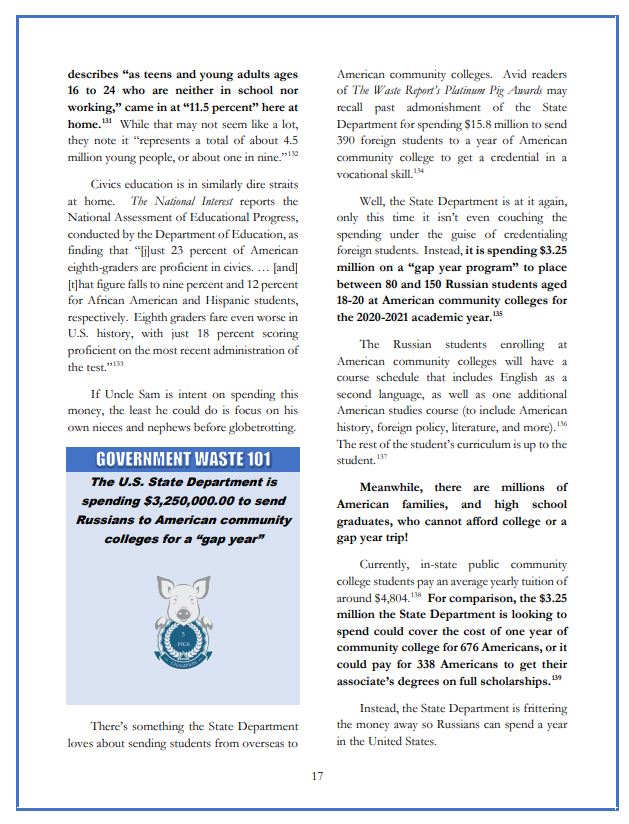 In total, Sen. Paul's Festivus Report claims that the federal government wasted $54.7 billion in tax dollars in 2020.
"It is more important than ever for Congress to find its fiscal backbone. Our debt puts at risk the long-term solvency of major programs such as Social Security," the senator stated.
The Congressional Budget Office states that the Fiscal Year 2020 deficit was $3.1 trillion, and the national debt is now up to $27.4 trillion. That's $83,924 for each American.
Despite warnings that the national debt crisis will affect their generations the most, Gen Z and millennials often don't see the national debt as a pressing issue. A recent survey revealed that only 33 percent of voters between the ages of 18 and 29 believe the national debt is of concern.
The Concord Coalition is an organization attempting to raise awareness and educate the American public about the causes and consequences of the growing federal debt and the need to develop realistic solutions for sustainable budgets.
The College Fix asked the policy director at the Concord Coalition, Tori Gorman, why young people should care about the national debt.
Gorman argued there are several reasons, including that "once debt becomes a conspicuous problem, it may be too late to do anything about it."
"As we saw with Greece and Portugal during the Great Recession, fiscal crises tend to occur quickly, accompanied by steep declines in investor confidence," she said.
She also noted that a large and rising debt burden reduces the fiscal space the country has to respond to the next crisis, and also that interest costs, even under low-interest rates, will grow and crowd out needed investments that are important.
"We're losing precious time," Gorman said. "…The current era of political polarization, close elections, and aging societies give politicians on both sides strong incentives to leave the debt problem for future generations."
MORE: Here are what feds pay universities to waste taxpayer money on
IMAGE: Olesya Kuznetsova / Shutterstock
Like The College Fix on Facebook / Follow us on Twitter