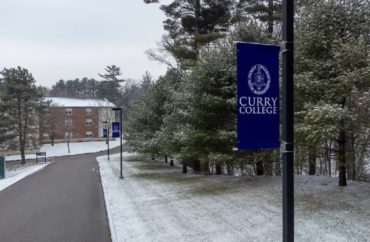 Investigation remains open a month later
A small private college in Milton, Massachusetts has allegedly been the victim of swastikas and other racial threats.
Curry College temporarily moved classes online due to the threats and offered a monetary reward for information that leads to the arrest and conviction of the perpetrators.
The classes were moved online for February 22 and 23 and also on February 25 due to a predicted snow storm.
Trouble began one month ago.
"Twenty swastika symbols and one racist graffiti were found on the walls at Curry College [the last week of January]," a CBS affiliate in Boston reported on February 1.
"Milton Police said they are investigating five separate incidents of hate speech on the Milton campus that occurred between January 27 and January 30," the CBS affiliate reported. "All the incidents were reported after the fact and police do not have a description of a suspect."
MORE: Black man arrest for 'N-word' and swastika graffiti at Emory
The Boston Globe reported there has been "a specific threat [made] against the Black community" but did not provide any details on what that entailed.
The Anti-Defamation League's New England regional director told The College Fix on February 25 that the investigation remains open.
"These disturbing incidents have multiplied over the month of February and have intensified to include racist threats that have disrupted and impacted the entire campus community," Peggy Shukur told The Fix through a media representative.
"We understand that investigations are continuing and hope to work with Curry College in the aftermath to heal from these incidents," Shukuer said. This includes "expanding anti-bias trainings for the campus community."
University officials and law enforcement remain quiet about any updates on the investigation.
The Fix emailed university public relations officials Liz Matson and John Eagan to ask for more information specifically about the threats allegedly made against black students and for photos of the graffiti but did not receive a response to a February 24 email.
The university offered a reward of $10,000 for information leading to the arrest, according to a mid-February statement. "The College is offering a reward of $10,000 to any individual who provides information that leads to the arrest and conviction of the individual or individuals," Curry College said, according to Boston 25.
The Milton Police Department has repeatedly declined to provide substantial comment.
"I am unable to comment on this incident. Under the public records law, I can not comment. This is an open case," Margaret Walsh, the records manager for the Milton Police Department, said in a February 11 email. She said on February 18, in response to a follow-up email, that she could not tell us if the police had interviewed any suspects. She confirmed on February 28 that there were no further updates she could provide.
Massachusetts colleges have struggled as of late to identify suspects in swastika allegations.
Mount Holyoke College also would not share details in February when asked multiple times about swastikas allegedly found on campus in December 2021.
MORE: American University closes bathroom swastika investigation
IMAGE: Curry College/Facebook
Like The College Fix on Facebook / Follow us on Twitter