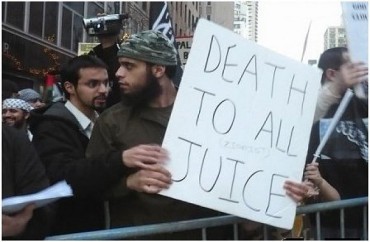 Kaukab Siddique of Lincoln University is currently embroiled in controversy for remarks he posted on his Facebook account back in May.
"Don't be scared of these dirty Jewish Zionist White Supremacist thugs," the professor wrote in response to the Pamela Geller-sponsored "Draw Muhammad Contest."
He's also chimed in on recent events such as the accusations against Bill Cosby, and the Supreme Court decision on gay marriage:
"Is it because 'many women are sluts?'" he asked regarding why women waited so long to come forward against Cosby. About the SCOTUS ruling he wrote "The servants of Allah, will oppose Obama's homo uprising . . . "
Lincoln doesn't approve of Siddique's comments, and emphasizes that they're his own, personal views.
"His latest activities, like his earlier writings, statements and activities, are an insult to women and other groups singled out," a university spokesperson emailed The Daily Beast. "Dr. Siddique's statements and assertions are his own, and they in no way represent the views of Lincoln University, its administration, faculty or students."

The spokesperson added: "Like all faculty members, he is entitled to express his personal views in conversation or in public forums, as long as he does not present such opinions as views of the University."

"If Zionist Pamela Geller has her way, the racists might try to enter mosques. Muslims should prepare themselves," [Siddique] wrote last month about the organizer of Texas's Draw Muhammad contest. "Don't be scared of these dirty Jewish Zionist White Supremacist thugs."
The professor certainly seems to be just a bit devoid of reality.
Back in 2010 it was discovered he had called the Holocaust a "hoax," and invoked the "moral ambiguity of war" when comparing it to the firebombing of Germany and the atomic bombings Hiroshima and Nagasaki.
"I'm not an expert on the Holocaust. If I deny or support it, it doesn't mean anything," he said.
In addition, Siddique "believes that terror groups like ISIS did not commit many of the acts it readily admits to: slavery, keeping hundreds of girls and women as concubines, and the mass murder of innocents."
He did qualify that comment — sort of — by noting "ISIS and terror groups like it 'do terrible things, I'm sure, and they do terrible things to people who do terrible things to other people.'"
The local Anti-Defamation League has chimed in on the matter, calling Siddique's remarks "deeply offensive and outrageous" and saying they "reflect bigoted stereotypes."
Regional ADL director Nancy Baron-Baer said, "Although individuals have a right to free speech, it is incumbent upon us as a community to counter hate speech and bigotry whenever they surface."
Read the full Daily Beast article.
Like The College Fix on Facebook / Follow us on Twitter
IMAGE: Kordite/Flickr