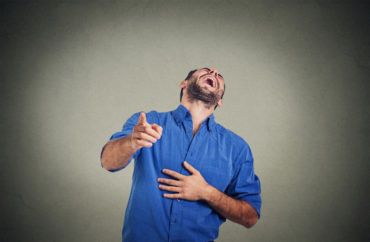 Very carefully
Hello, students! It's great to be here at State University tonight. I came here all the way from sunny California—don't worry, though, I offset my carbon usage by pledging a month of Meatless Mondays. What's that? Okay, I'll throw in a couple of Soy Saturdays as well. Fair enough. Okay, okay, and I'll convert my car over to vegetable oil combustion as well, and—yes, yes, I'll go without electricity for two weeks of every month. I'll make this right, I promise. Sheesh.
Anyway, I'm glad to be here performing some of my comedy routines for you. I can tell you're a spirited bunch of jokesters and that you love to laugh. We'll start out with one of my favorite jokes: Why did the chicken cross the road?
What's that? Why…yes, I suppose you're right: It's the chicken's body and the chicken's choice, and we are in absolutely no place to question the decisions she might make. Very true! I am a firm supporter of a woman's—and a chicken's—ambulatory rights. So, um, well, let's try it this way: The chicken crossed the road and then she asked you why she did it. Is that good? Okay, great.
Huh? Oh, well, yes, I suppose this joke does perpetuate certain speciest stereotypes about the subservience of animal-people. I mean, I'm not quite sure how it does that…but I'll grant it for the sake of argument. So, um, okay, it wasn't a real chicken—it was a mechanical chicken. No imaginary real chickens were exploited in the creation of this joke, ha-ha! Oh, I see you didn't find that funny. Okay. Well, anyway, so, um—the imaginary mechanical chicken crossed the road and then enthusiastically consented to your asking why she did it. So, um, why did she do it?
What now? You're asking if the chicken is genderqueer or otherwise non-binary? Well, I mean—look, it's a robot chicken, right? Can robots be genderqueer? Is that—is that a thing? It seems unlikely. Okay, okay, I can see the nucleus of a protest forming in the center of the room there. No, no, you don't have to "occupy the auditorium." There's no need to pitch those tents over there and start urinating in the corner. Sure, the imaginary mechanical chicken is genderqueer, fine. Why did she cross the road?
Zhe, zhe, I'm sorry, why did zhe cross the road!
Now you're asking about—I can't even. You want to know if the chicken was raised holistically and slaughtered in accordance with halal law? People, remember, this is a robot chicken. It wasn't raised at all, and it can't be slaughtered! You have to keep track of your own rules! I can't do it for you. It's—okay, okay, you don't have to start a petition against me! Yes, the chicken was raised on a nice farm in Vermont by a lesbian womyn's collective, and if it is ever slaughtered—for some reason!—then it would be slaughtered under halal. And you know what, just to cover all our bases, the chicken is also totally pro-gay marriage. And it supports universal healthcare. And it hates conservative people and voted for Hillary Clinton. And it regularly denounces its own robot white chicken privilege. Is that enough? Is that—did we cover all the bases?
Okay, now, finally, finally, why did this chicken cross the road?
Oh, look at that, we're out of time. It's been great being here! Give me a follow on Twitter!
MORE: How political correctness drove away comedians from campus
IMAGE: pathdoc / Shutterstock.com
Like The College Fix on Facebook / Follow us on Twitter