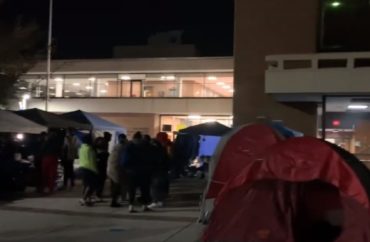 Howard University is not commenting on its agreement with protesters who said living conditions at the school were unsanitary and wanted better representation on the board of trustees.
The students occupied a campus building for a full month and outside activists also camped out at the university in a tent city. The "Blackburn Resolution" included students ending the occupation of the Blackburn Student Center. Outside activists were also required to leave campus.
There were no concrete details included in the resolution announcement. The university promised to remain "vigilant" about keeping the buildings safe and clean. The protesters asked for an in-person meeting with the administration, restoring voting power and trustee positions to students, faculty and alumni and a new housing plan for future Howard students, according to WUSA 9.
The president also promised to keep open lines of communications with activists.
The D.C.-based university first settled with protesters over a month ago, but the school will not release details.
The College Fix also reached out to Donald Temple, the attorney representing the students, but he has not returned several phone calls in the past two weeks seeking comment. The Fix left a message seeking a copy of the agreement and also emailed his office on December 27.
The College Fix emailed public relations director Alonda Thomas and spokesperson Brittany Bell via email and asked for information on the resolution agreement. The communications team at Howard has not responded to the emails sent in the past month.
Students said the university did not adequately address complaints about mold in the dorm rooms. "In October, Howard University officials listed 34 reports of concerns related to discoloration, or suspected fungal growth, across more than 5,050 beds — 0.67% of all on-campus beds," ABC News reported.
The Fix reached out to the D.C. Department of Health media team to ask if there had been any formal complaints made about the living conditions and if anyone from the DOH had investigated the issue. Robert Mayfield, James Tyll and Kelsey Tate all did not respond to emails from The Fix sent in the past month.
The Fix also reached out to various protestors and students through Instagram to ask whether they believed the resolution was sufficient or not. Autumn Hester, Mashayla Billups, Alex Allen and Steph Clark all ignored Instagram messages that asked for comment on the resolution agreement.
University president said the protest 'threaten[ed]' students' safety'
"Protest drives change. I accept and applaud it," university President Wayne Frederick said in a November 15 video message. "I do, however, struggle with the type of protest which threatens students' safety, the very thing that students said prompted their concerns. The health and well-being of students is the most important part of my job as president."
Although Frederick did not provide any details to the resolution in his video message, he did make reference to the university's Central Campus Master Plan of 2020, which is focused on the "long-term transformation of the central campus experience for students, faculty, staff, alumni, and surrounding communities."
MORE: Howard University students occupy campus, demand police disarm
IMAGE: Fox 5/YouTube
Like The College Fix on Facebook / Follow us on Twitter