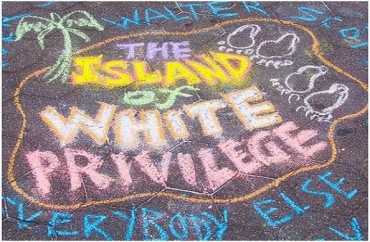 Director and founder of the Library Freedom Project, Alison Macrina, allegedly deviated from the topic of discussion when she scolded students at Princeton High School for their "white privilege."
According to Philly.com, Macrina was to speak on internet safety and privacy when she "began discussing racist and sexist 'trolls' on social media in relation to cyberbullying and white nationalism."
Via social media, Macrina claimed that "a vocal minority of the audience cheered" upon her showing examples of "racist and sexist online attacks."
"I called them out," Macrina said via Twitter. She described those cheering as "wealthy white teen boys cheering for racist imagery and yelling even louder when called out."
Princeton Principal Gary Snyder wasn't very happy about Macrina's remarks, and ended up emailing parents an apology for "the inappropriate tone and unexpected direction of the assembly."
Snyder wrote in the email, which was obtained by Philly.com, that while Macrina "came to us highly recommended," she "strayed from the original message and objective."

"While our speaker sought to make important points regarding digital privacy and online safety, her strident style combined with provocative and inflammatory language caused students and adults to be understandably offended," Snyder wrote.

"While I, and some others, were able to see some value in the content she delivered, I acknowledge to you that I also took umbrage with several of her comments," Snyder continued. "As a result, and unfortunately, many of the important lessons of digital citizenship were largely lost."

MORE: Public university to host whites-only student retreat on 'white privilege'

On Twitter, Macrina wrote that she was "astonished" by the issued apology, "but also not."

"This is our world," she added. "White students cheer swastikas and the offensive one is the one who calls that racist."

While Macrina never mentioned the school by name in her litany of messages, some students tracked down her account and replied to her messages.

The student messages included some claiming Macrina misinterpreted the students' responses as racist.  One student claimed Macrina should have kept her political views to herself, while others attacked her personally using volatile language, demeaning insults, and slurs.
The article notes that Macrina's Twitter feed was changed to private; however, it appears she merely edited her profile moniker as her user name (the "@" portion of an account) remains visible.
In her own words, she is not merely a liberal but a member of "the antifascist far left":
I'm not a liberal, I'm from the antifascist far left. Get it right. https://t.co/aiTpJSklsB

— local resistance ? (@flexlibris) November 17, 2016
Her feed certainly appears to confirm this as, among other things, she believes that "the Reichstag is burning":
@Vlad_Stepanov21 the Reichstag is burning and y'all are laughing at some unrelated bullshit. that's sickening.

— local resistance ? (@flexlibris) November 16, 2016
A commenter to the Philly.com article who claims he was at Macrina's lecture says
As one of the students at the assembly to whom the message of white privilege was not addressed, I can personally say that what she said to those students was not offensive so much as pathetic. She said that "white privilege is one hell of a drug" in response to their first transgression, and that's the point at which her long, nearly interesting rant turned from internet privacy and security to an avid defense of marginalized people, people facing real problems to whom she thought that she could relate because she is a "political activist."
MORE: Professor: 'Secret Life of Pets' movie showcases white privilege
MORE: 'Racial justice educator' to enlighten Jews about their 'white privilege'
Like The College Fix on Facebook / Follow us on Twitter
IMAGE: waywuwei/Flickr