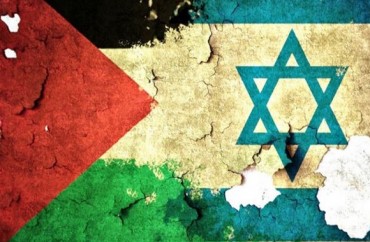 Some 225 Oberlin College alums have signed an open letter calling on the university to address what they contend is rampant anti-Semitism on campus.
They are led by Dr. Melissa Landa, a professor at the University of Maryland and a 1986 alumna from Oberlin College, who says the anti-Israel, anti-Jewish speech from those on campus aligned with the highly controversial Boycott, Divestment and Sanction movement have caused stress and heartache among the school's Jewish student population.
"For the last few years, I have been hearing reports about the Oberlin campus becoming increasingly hostile for students who express their Jewish identities by supporting Israel," Landa stated in an email to The College Fix.
Landa organized the Obies Against Anti-Semitism closed Facebook group and serves as something of a spokeswoman for its members.
"Our group is non-denominational, and represents a wide range of political views. We do not take a stand on Israeli policies; we are only concerned with putting a stop to anti-Semitism," Landa said in her email to The College Fix.
In the open letter, it cites examples of Jewish students being laughed at, dismissed, criticized and ridiculed.
"As Oberlin students and alumni representing a diversity of views on Israel, we accept criticism of its leadership and policies. However, we do not believe Israel should be singled out for condemnation and we object to questioning its right to exist," the letter states. "We also abhor the tactics of Oberlin's pro-BDS student organizations that intimidate, threaten, and coerce Jewish students, which we have seen and heard in numerous written and spoken reports."
The letter goes on to note:
According to The Jewish Exponent, an award-winning newspaper that serves the Jewish community of Philadelphia, one Oberlin student reported, "My fellow Obies and I were expected by our peers to join them in denouncing a plethora of social evils including…Israel." That same student described an incident on campus when, "One speaker drew laughs when she said that Zionists should be burned at the stake."

In addition, the AMCHA campus monitor, which is published by a nonprofit organization that addresses anti-Semitism on college campuses, has documented numerous messages posted on line by the student group, Students for a Free Palestine, including, "Ohio is infested with Zionism," and describing Israel as a "white supremacist," "violent apartheid state."

As reported to The Oberlin Review, other incidents include the expulsion of the Kosher Halal co-op from the Oberlin Student Cooperative Association and an exhibition of black flags symbolizing the Palestinians killed in Gaza during Operation Protective Edge displayed on Rosh Hashanah, one of Judaism's holiest days.
The Oberlin College administration did not respond to a request for comment from The College Fix, but Fox News reports that Oberlin President Marvin Krislov was slated to meet with the group this week to discuss the issue, and that "members of Oberlin Students for a Free Palestine issued a statement rejecting the charge that members are anti-Semitic."
"We reject the idea that support for the Palestinian cause is anti-Semitic," read the statement. "Criticism of Israel may challenge the political opinions of some students, but that is not a threat to their safety. We will continue to confront the realities of the occupation on our campus."
RELATED: Yet Another Reason in Long List of Reasons to Dislike Oberlin College
The BDS movement has gained media attention for its bombastic protests against Jewish students and faculty. According to a new report, there has also been an unprecedented rise in anti-Semitism on college campuses in recent years that is "fueling hatred and making many campuses unsafe for Jews," the Washington Free Beacon reports.
"The array of incidents were recorded at many universities and often included Nazi imagery, slurs calling Jews "evil," and calls for Jews be murdered," the Free Beacon reported, citing the AMCHA Initiative, which recently created a database that outlines all reports of anti-Semitism on college campuses across the country.
RELATED: Meet the Obama-supporting Leftists Who Faked Hate Crimes at Oberlin College
Oberlin College's profile outlines the anti-Semitic commentary and programming that has been sponsored by pro-BDS groups and other supporters there, including an open letter to Oberlin College administration from some students that describes Israel as a detriment to peace in the Middle East.
"We vehemently condemn the apartheid state of Israel's occupation of Palestinian land and proudly endorse the Students for a Free Palestine's divestment proposal," according to the open letter, which was published in The Oberlin Review in 2015.
RELATED — VIDEO: Watch the bizarro 'safe space' announcement at Oberlin that preceded embattled conservative's campus speech
Like The College Fix on Facebook / Follow us on Twitter