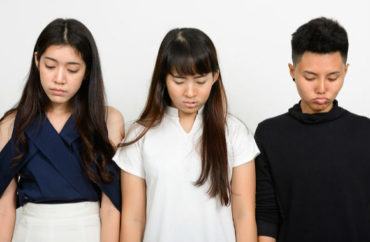 All but called them Uncle Toms
Who knew Asian American groups don't have monolithic views?
Students from Harvard University and other elite institutions have denounced Asian American groups at Harvard for not joining a Monday walkout in support of the Deferred Action for Childhood Arrivals program.
The Obama administration program, which shields people brought to America illegally as children from deportation, was the subject of Supreme Court oral argument on Tuesday.
Titled "An Open Letter to the Asian American Community" and signed by nearly 600 people as of Thursday afternoon, the letter rips into Harvard Asian American groups for largely ignoring requests to co-sponsor the walkout, co-organized by Act on a Dream and the Asian American Womxn's Association.
Act on a Dream is also leading a student government-supported boycott of The Harvard Crimson for asking U.S. Immigration and Customs Enforcement for comment on the group's anti-ICE rally.
The letter said contacted groups included the Asian American Association, Chinese Students Association, Harvard Korean Association, Taskforce for Asian and Pacific American Studies, South Asian Association, South Asian Women's Collective, Harvard Vietnamese Association, Harvard Philippine Forum, Khmer Student Association, Asian American Brotherhood, and South Asian Men's Collective.
Three co-sponsored the walkout, a "few" said their boards could not agree, and most didn't respond. "This is not without consequence," the letter continues: "In doing so, you have outed yourselves as non-safe spaces for undocu+ people within the Asian American community." (It's not clear why the word "undocumented" would be considered offensive.)
It vaguely claimed that "many" Asian Americans on campus are "impacted" by DACA, citing a four-year-old estimate by the Center for Migration Studies that 1.7 million Asians are undocumented nationwide. The letter provides no evidence that its "1 in 6" figure applies to the rarefied world of the Ivy League, much less Harvard, where immigrants often pay full tuition.
MORE: Harvard activists furious student newspaper asked ICE for comment
#DACA directly affects #AsianAmericans

1 out of every 6 #undocumented immigrants in the US is #Asian.

1 out of every 7 #Asian #immigrants is #undocumented.#DefendDACAhttps://t.co/wpnhNiONyc pic.twitter.com/IY6wXhrb1Q

— Jennifer Lee 🦁 (@JLeeSoc) November 12, 2019
Most of the 1,100-word letter, which addresses "The Asian American 'Community'" in scare quotes, shames and scolds the non-participating Asian American groups in the language of intersectionality.
They fail to recognize that "the structural oppressions that YOU suffer from on a daily basis" are connected to "the SAME global structures of racism and dispossession that inflict violence on people of color across the world. In other words, standing up for immigrant rights represents the profound understanding that all our liberations are interconnected: your liberation is my liberation and vice versa."
The letter says Asian American groups cannot be "apolitical," as some may wish:
An apolitical cultural community is a pernicious lie. It is literally impossible to live as a person of color on the stolen land that is the United States without either being political or being politically instrumentalized by oppressive structures. … Therefore, the choice to disengage is indeed a political choice, and an extremely dangerous one at that.
The letter implies that non-participating groups are the Asian American version of Uncle Toms. They do a "disservice to the title 'Asian-American'" by not engaging in political activism.
After this slur, the letter seeks to sound moderate, and fails:
We are not asking you to become the "wokest" in the room or for you to unconditionally defend every leftist agenda. But we ARE asking you to critically engage with these spaces and conversations and to actively seek to learn. This does not mean passively "thinking" about these topics within your organizations' boards. Rather, it means actively making your allyship and commitment to your communities clear with programming, discussion platforms, and tangible coalition-building with other orgs, peers, and institutions.
The largest block of signatures, if not a majority, are identified as Harvard undergraduates. The first 200 or so have only a sprinkling of non-Harvard institutions listed, including Yale, Swarthmore, the University of Pennsylvania and Georgetown.
Asian surnames dominate the full list, as do elite public and private schools. The least elite might be Philadelphia's Drexel, with an acceptance rate around 75 percent.
An open letter to the Asian American "Community"

I co-signed this letter because I believe that everyone should educate themselves, especially if you're involved in an Asian orgs. Cut the clout chasing and start caring about the community. https://t.co/viOUtdBMGx pic.twitter.com/11cXR5F3Qy

— thao tea (@thaosteatime) November 14, 2019
Though The Harvard Crimson covered the letter, which it said had roughly 400 signatures as of early Thursday morning, the newspaper did not provide readers a link to read it themselves.
It said 21 campus organizations including black and Native American groups co-sponsored the walkout. Several groups did not respond to Crimson requests for comment and two declined to comment.
This spring the newspaper published a feature on tensions among "Asian cultural affinity groups" on matters including "the prioritization of political advocacy" versus simply creating a community for such students.
Read the letter and Crimson report.
MORE: Student government denounces Crimson for doing its job
IMAGE: Ranta Images/Shutterstock
Like The College Fix on Facebook / Follow us on Twitter