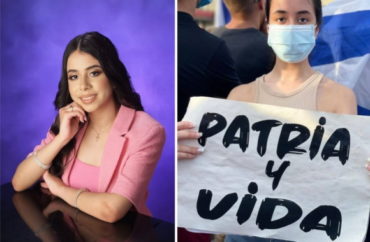 OPINION: 'In this country, there is so much freedom that it has gotten to the point where people don't value it enough'
For most Americans, constitutional guarantees of freedom of speech and expression are merely an afterthought — a birthright that's often taken for granted.
But one Florida high school senior knows what it's like to live under a regime where those rights are not a given — and as free speech comes under increasing scrutiny at high schools and universities across the country, she's not afraid to come to freedom's defense.
Sabrina Morera, a senior at Doral Performing Arts and Entertainment Academy in Miami-Dade County, recently won first place in a nationwide free speech essay contest sponsored by the Foundation for Individual Rights in Education.
Drawing on her personal background as a Cuban immigrant and the daughter of parents who came to the U.S. fleeing communist authoritarianism, Morera vigorously pushed back against those who propose allowing institutions of higher education to restrict students' freedom of expression.
"My parents brought me to this country at a young age for one thing: freedom," Morera wrote. "They brought me so that, unlike my mother, I would attend college regardless of my family's political opinion. So that, unlike my great uncle, I would not be incarcerated and tortured for not supporting the government. So that unlike my uncle, I would not be threatened if I ever tried to leave the country. So that unlike every Cuban, I would not be indoctrinated and censored throughout my education."
"Today, free speech is in danger in universities throughout the United States," she continued. "This places our country's democracy in danger."
In an interview with The College Fix, Morera paid tribute to her parents' efforts to escape Cuba and ensure a better future for their family in the U.S., and noted that witnessing their sacrifices helped demonstrate to her the "importance of freedom."
"A lot of my beliefs were shaped by the experiences that my family lived [in Cuba]," she said. "My parents brought me [to the U.S.] when I was a toddler, because they wanted to live freely without fear, unlike how they lived in Cuba."
"I've always been very passionate on the topic of freedom," she said. "As a Cuban immigrant who was brought here at a very young age, I know what it's like to not live in freedom."
Criticizing attempts to restrict certain speech on the basis of offensiveness, Morera argued that restrictions on speech — even purportedly minor ones — are a slippery slope inevitably leading to further censorship.
She described how suppression of speech "can start off with one word, then another one," and later rise to a level where "you can't express your opinions just in fear of getting someone angry or offending someone, just because their beliefs don't align with yours."
In her essay, Morera recounted how when her mother was a high school senior in Cuba, she was denied admission to college because of her family's political views.
"[That] was something that really affected her, considering that my family is very academics-driven," she said. "It was always her dream [to go to college].
But because Morera's uncle was among the thousands of Cuban dissidents who, in a highly publicized 1980 incident, attempted to claim asylum in Peru's embassy in Havana, the Castro regime banned her mother from attending college.
"Because of this, she wasn't able to go to college," she noted. "She didn't have the opportunity."
When asked why she thought many Americans don't seem to have much appreciation of the value of their civil liberties, Morera highlighted complacency and lack of awareness as major factors.
"In this country, there is so much freedom that it has gotten to the point where people don't value it enough," she said.
"In general, from what I've seen, there's not enough awareness in the U.S. for these problems that other countries face, so people don't realize the value that their freedom has, considering that they don't know what it's like to live without it."
Continuing, Morera cited a lack of personal experiences with censorship and political repression as reasons why some people might view freedom of speech as unimportant.
"A lot of our perspectives are informed by how we were raised, how we grew up, and what we saw around us," she said. "Seeing those [speech] restrictions around me, seeing how they affected family and friends, definitely has pushed me towards thinking that freedom of speech is better."
"People who are not exposed to these ideas from a young age and have not seen the suffering that comes with restrictions on freedom of speech will have other perspectives."
Morera pointed to comprehensive education as the most effective way to increase awareness among students for the importance of freedom.
"Ways that appeal to students — anything that they can read related to what happens when freedom is taken away, and pushing for classes that teach the reality [of what's going on] in these authoritarian countries — and just overall, trying to bring this awareness to them," she said.
Reflecting on the future of free speech and academic freedom in American schools, Morera predicted that many challenges likely lie ahead for students.
"Right now, I've seen that more people are pushing for more restrictions, so I do fear that the situation could get worse," she said.
After graduating from high school this year, Morera will attend Florida International University in the fall.
MORE: My parents fled communism decades ago. But at my elite D.C. university, the ideology is alive and well.
Like The College Fix on Facebook / Follow us on Twitter