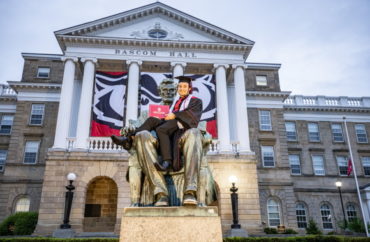 OPINION: Lincoln is not the villain
I recently graduated from the University of Wisconsin and got the opportunity to participate in a long-standing tradition in which graduates sit in the lap of campus' Abraham Lincoln statue on UW's Bascom Hill.
The tradition dates back over 100 years to the arrival of the statue on campus in 1919. Sitting atop the statue allows one an elevated view of the world, much like one obtains through completing their college education, and allows the opportunity to rub Lincoln's supposedly lucky nose.
As underclassmen, we are forbidden to climb Lincoln or campus legend states the statue will rise from its seat and boot us down Bascom Hill, causing us to fail all our classes. Throughout the past four years, I played by these rules and diligently waited my turn to climb the statue.
When at last it became time for my visit to Mr. Lincoln this past week, I couldn't help but feel a pit in my stomach as I did so. Instead of joy, I felt worry, because it was possible that I was among some of the last UW-Madison students to participate in this venerable rite of passage.
One of the first articles I ever wrote as a student reporter for The College Fix in 2020 was about a student petition to remove the Lincoln statue from its place atop Bascom Hill because of a growing perception of the statue as a monument to racism.
I followed this piece with an opinion piece, urging my campus not to remove such an iconic landmark. I argued "a campus without this statue would be a campus that is ashamed of its past and afraid of its future."
I was 18-years-old then, having finished my freshman year of college just weeks before. My piece was written mostly in shock, as I couldn't genuinely understand why someone would want to remove a testament to Abraham Lincoln, the Great Emancipator, in the name of anti-racism.
I explained that although Lincoln had a complex legacy, it is one that we can all learn from. As college students, none of us have perfect legacies. It is the reason we feel compelled to spend a fortune on a college education in the first place.
I wrote my op-ed thinking that such a ridiculous notion would die down soon after. This was not the case, however, as issues surrounding the statue persisted in each of the years to follow, including earlier this month.
In the years since that editorial, I have written over 100 articles with The Fix. Those pieces have covered a wide array of pressing higher education issues, protests and meetings on campuses across the U.S., and my reporting allowed me to speak with numerous sources across the political spectrum.
Though tensions can flare in the heat of any pressing issue, I have never seen someone act with complete reckless abandon, no matter what side of an issue they were on. It was always apparent to me that no matter who I spoke to, people often tend to act with reason and rational decision making.
That is, except for those advocating to remove Lincoln.
The Lincoln statue does not— and should not—preclude the presence of other statues on campus. One of the most popular compromises in the Lincoln argument is to have him replaced with a leader of the Black community to represent racial inclusion to people who identify as underrepresented races.
I whole-heartedly encourage the erection of a statue of this sort, as long as it does not interfere with the placement of Lincoln atop Bascom Hill. After all, he was there first.
The introduction of such a monument would enrich our campus community and give rise to more complicated discourse about the legacies of those we idolize, both useful and problematic alike. Rather than dismantling the institution I love, this addition would be a way to further develop it into something great.
The recent release of a racist video by a UW student has the campus gripped in controversy. Once again, administrators, students and faculty search for answers. There are some who see calling for Lincoln's head as the only plausible solution to the many questions presented by an outburst of such racism so close to home.
I, like my peers, stand unequivocally against racism in all its forms, but the fact of the matter is this: Lincoln is not the villain.
Lincoln has stood on the UW campus over the past 100 plus years as a representation of the Morrill Act, which created land grant universities such as the University of Wisconsin. Not once in that span has the statue done anything to actively invite racism to campus. It is a statue.
The Lincoln statue is not the perpetrator of racism at the University of Wisconsin, but rather a scapegoat. It, like the Chamberlin Rock, is merely caught in the crossfire. The main difference between the two is that one was able to survive this for the time being.
When UW in 2021 removed from campus the Chamberlin Rock, a boulder that was once referred to with a racist slur, administration proved that nothing was safe from being given the shepherd's crook at any moment.
Perhaps removing the rock was meant to placate those who seek to force the removal of the Lincoln statue, but doing so only fed fuel to the rising flames.
The truth of the matter is this: removing the statue, just as we did the Chamberlain Rock, will not end racism. Ending racism is difficult work because it is an intangible idea and doing so is a process that will take years. It requires constant consistent work to keep at bay or else it will take root like all corrosive ideologies do.
Removing a tangible campus monument, like the Chamberlin Rock, to dismantle an intangible concept such as racist thought did not end racism and it will not stop with the removal of the Lincoln statue.
Each of these thoughts swirled through my head as I sat atop Lincoln's lap, looking out at State Street below and the Wisconsin Capitol in the distance. Is my alma mater an ever-evolving assortment of interchangeable icons that can be altered on a passing whim, or is its inherent standing as one of the top universities in the world the result of many storied aspects, such as the Lincoln statue, that make it unique?
This question is at the crux of the Lincoln debate, as it was when I was a freshman, and debates surrounding other campus icons across the country. This is a question I attempted to solve during my time as an underclassmen, but having graduated, both from UW and The College Fix, this issue is out of my hands now.
While I can't provide the answers to this and other burning questions that trouble the students and administrators of our country's great universities, I can say this: the Lincoln statue is our past and it will be our future as well.
Those who push to remove it overlook the fact that the statue is a treasured piece of our shared history as Badgers, just like Camp Randall Stadium and ice cream at Memorial Union Terrace. Like in the ancient story of the snake eating its own tail, a university that actively dismantles itself is a university that will cease to exist.
In truth, there was a voice in my ear when I sat in the metal man's lap last week that worried about whether or not the Lincoln statue would be there the next time I visited campus. Though this is a worry that will persist with me for some time, having learned much from my time as a student journalist, I know that as long as outlets such as The College Fix are keeping an eye on things, I have little to worry about.
MORE: 'Racist' rock removed from UW-Madison
IMAGE: Pathum Karunaratne – PxPhotography 
Like The College Fix on Facebook / Follow us on Twitter