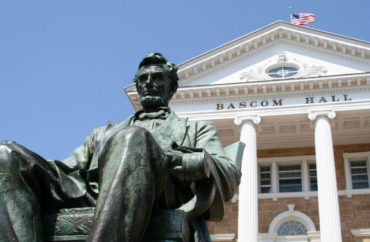 Statue called 'racist memorabilia' in student newspaper editorial 
Talk of removing an iconic Abraham Lincoln statue at University of Wisconsin Madison has reignited recently in the wake of racial unrest on campus.
The tensions unfolded in recent weeks due to a 25-second video posted on social media at the beginning of May that featured a female blonde white student's racist ramblings, prompting major student protests and demands for change.
The College Fix reached out to the student for comment, but has not received a response.
At a May 3 student government forum held to focus on the concerns and controversy, an "action item students requested" included the "removal of racist memorabilia on campus," such as the Lincoln statue, according to a Badger Herald editorial.
"The Abraham Lincoln statue on Bascom has been the subject of controversy over the past few years — not only for Lincoln's ethically questionable political history, but for the origins of the statue itself, which was largely funded by Richard Lloyd Jones, a known racist and journalist," the May 10 editorial stated.
"The unfettered admiration of Lincoln is disappointing when the names of Black leaders during the Civil War — such as Abraham Galloway, Dr. Rebecca Lee Crumpler and Robert Smalls — have been forgotten or overshadowed," the editorial added.
The Lincoln statue is no stranger to controversy.
In 2020, student activists marched on the university's Bascom Hill to enforce their BIPOC demands, of which removing the prominent statue of Lincoln was the top action item. Then-Chancellor Rebecca Blank refused to take such an action, and her successor Jennifer Mnookin has since declined to comment on her stance on the campus fixture.
Meanwhile, campus leaders seek to quell the current unrest and respond to student activists' latest demands.
Following the initial May 3 protest by the Black Student Union on Bascom Hill, Chancellor Mnookin released a statement via UW News in which she responded to the nine demands issued by the BSU by thanking the protesting members.
"Yesterday morning, more than 200 of you gathered outside my office in Bascom Hall to share the power of your voices," Mnookin wrote. "You shared with members of my leadership team and with me your pain, your fear, and your frustration."
"You took time and care to record and share your expectations of me and of your university. Thank you. You belong here and I want you to know that we hear you," she said.
The letter also acknowledged that students requesting mental health and academic accommodations during what was the school's final exam period could receive them through existing resources provided by University Health Services and the Dean of Students Office.
Though her statement complied with the BSU's 24-hour timeframe for a demand response, the school's Black Student Union remained dissatisfied and launched a new initiative called the Blk Pwr Coalition, a lipogram for "Black Power."

The coalition's first act was to organize a protest at the foot of Bascom Hill. Demonstrators then marched to nearby State Street where they chanted and gave speeches, decrying the response from Mnookin.
"[Mnookin] did not tell all the professors on this campus that we need academic accommodations, that we have no other options. There are students out here right now who are missing exams, not being able to turn in papers because they are not going to listen to us," said a protester over a megaphone.
"We made a demand. [Mnookin] was supposed to tell [campus professors] that we need academic accommodations and she did not listen to us. We are very disappointed in that as well."
That same day, the Associated Students of Madison hosted the forum in which some of its members further criticized the response from administration.
When a participant at the forum noted that the student government had yet to release an anti-racism statement responding to the video, Chair Kevin Jacobson became extremely apologetic.
"We fucked up — It was fully on us and I recognize that, and it will be addressed in future communications," he reportedly said.
While the campus may be in an uproar, some outside observers are less convinced the university is a hotbed of racism.
In response to the growing tension on the UW-Madison campus, the Republican state legislature threatened to cut funding from the University of Wisconsin System if they continued to implement DEI inclusion efforts.
System President Jay Rothman also announced the system will no longer require DEI statements from job applicants.
WATCH: Racist video from UW-Madison student prompts campuswide racial unrest
IMAGE: Eric Johnson / Flickr
Like The College Fix on Facebook / Follow us on Twitter