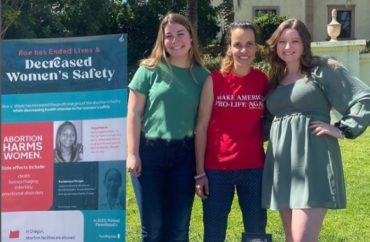 University said it supports dignity of life
A pro-life student organization said it had a successful outreach event at the University of San Diego despite facing insults from passerby and being removed from campus.
Students for Life of America said people told its employee and members of the College Republicans' club things like "I wish you were aborted" and "[Expletive] you."
University officials also ordered the club to move off campus and a spokesperson told The College Fix the organization had not followed the proper procedures.
The university police "asked a group of people not affiliated with the University of San Diego to move their activity off campus as they had not requested nor obtained permission to assemble on our campus," a spokesperson told The Fix in April. The event happened at the end of March.
The university said "non-affiliated groups" can request permission to "hold an event" on campus, but "this group did not follow the established protocols and procedures outlined by the university, guidelines that apply to all groups."
The spokesperson said "the university has a long-established pro-life student organization" and the school "believes in the dignity of the human person — from conception to natural death — and supports the Catholic Church's pro-life teaching."
MORE: University of San Diego health plan pays for abortions
Southern California Regional Coordinator Jordan Brittain told The Fix the group succeeded in reaching students regardless.
"Regarding how we continued with the tour despite being refused, we set up the tour on the sidewalk just outside the campus, which is technically public property," Brittain told The Fix through an SFLA media representative. "This gave us a ton of exposure, and we received many supportive honks and words of encouragement, as well as a lot of hateful responses from the pro-abortion students and passersby."
"I noticed that many people were reading the display even from their cars, and I think it was a great pivot plan to being refused only one day prior to the scheduled tour date," Brittain said.
"In total, we talked to almost 30 people about the display, which focused on the pro-life plan to support women in a Post-Roe America," Brittain said. The group also spoke about chemical abortion drugs and the outreach included providing resources to "women and students in unplanned pregnancies."
She said half of the people they spoke to signed up to help or to learn more about the efforts the pro-life organization undertakes on issues such as abortion, foster care and adoption.
Neither the university nor SFLA provided correspondence concerning the registration and outreach event on campus.
MORE: Med student has a 'moral, righteous drive' to commit abortions
IMAGE: Jordan Brittain/Instagram
Like The College Fix on Facebook / Follow us on Twitter