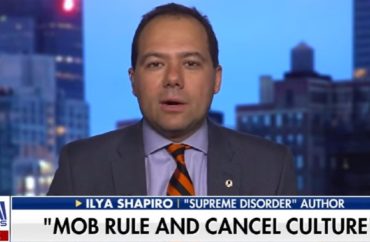 Refuses to participate in 'slow-motion firing'
Ilya Shapiro announced his resignation from the Georgetown University Law Center — just days after Dean William Treanor reinstated him.
"After full consideration of the report I received later that afternoon from the Office of Institutional Diversity, Equity and Affirmative Action, or IDEAA, and on consultation with counsel and trusted advisers, I concluded that remaining in my job was untenable," Shapiro wrote in a Wall Street Journal op-ed on Monday.
He said the diversity office and other departments at Georgetown "enforce an orthodoxy that stifles intellectual diversity, undermines equal opportunity, and excludes dissenting voices."
"I won't live this way," he wrote. He said the restrictions on free expression would lead to a "slow-motion firing."
Shapiro had been left on administrative leave for four months after he tweeted criticism of President Joe Biden for using affirming action to pick Judge Ketanji Jackson for the Supreme Court.
Shapiro's now-deleted Jan. 26 series of tweets read:
"Objectively best pick for Biden is Sri Srinivasan, who is solid prog & v smart. Even has identity politics benefit of being first Asian (Indian) American. But alas doesn't fit into the latest intersectionality hierarchy so we'll get lesser black woman. Thank heaven for small favors?

Because Biden said he's only consider[ing] black women for SCOTUS, his nominee will always have an asterisk attached. Fitting that the Court takes up affirmative action next term."
After receiving backlash, Shapiro released an apology and reiterated his "message that nobody should be discriminated against for his or her skin color."
Following his suspension, and his reinstatement four months later, Shapiro was set to begin work as executive director of the Georgetown Center for the Constitution.
"It's over – going to work at @GeorgetownLaw @GUConstitution tomorrow," tweeted Constitutional law Professor Ilya Shapiro on Thursday.
It's over – going to work at @GeorgetownLaw @GUConstitution tomorrow!

Statement to follow.

— Ilya Shapiro (@ishapiro) June 2, 2022
In his op-ed Monday, Shapiro wrote he got his job back on a "technicality that [he] wasn't an employee when I tweeted."
However, the diversity office report "implicitly repealed Georgetown's Speech and Expression Policy and set me up for discipline the next time I transgress progressive orthodoxy," Shapiro wrote.
If he made other objectionable remarks, the office made it clear that they would subject him to disciplinary action, Shapiro stated.
Georgetown Law student Rachel Jessica Wolf called Shapiro's departure a "sad day."
"Sad day for those of us who were looking forward to taking classes with Mr. Shapiro," she wrote. However, "it's not worth serving institutions that are intent on destroying you."
His op-ed cited different examples of potentially offensive speech by Georgetown professors that the university did not penalize.
MORE: Shapiro refuses to be silenced
IMAGE: Fox Business/YouTube
Like The College Fix on Facebook / Follow us on Twitter