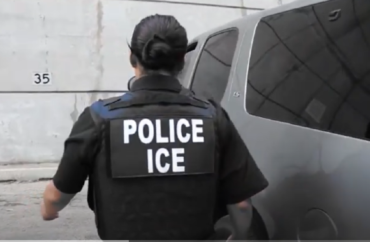 Immigration and Customs Enforcement pulled out of a career fair last week at the University of California-Berkeley. The decision came after a petition from student activists demanded the university kick the federal law enforcement agency out from its spot at the fair.
"ICE has informed the campus they will no longer be attending the Career Center's March 11, 2021 virtual career fair," Tom Devlin, the executive director of the center, said in a March 10 statement.
The announcement occurred after "organization of students from Cal Bears Against ICE and the American Civil Liberties Union of Northern California," the student paper The Daily Cal said.
"It is not acceptable for UC Berkeley to claim it protects its undocumented student population and recruit students to begin careers with ICE," a Change.org petition said. ICE's presence "creates a climate of fear and confusion," according to the petition, which garnered 1,500 signers.
"We want to assure you that the Career Center fully supports UC Berkeley's undocumented student community and we recognize how the potential involvement of ICE could cause alarm or misunderstanding," Devlin said. "ICE has participated in career fairs in the past but there is no official partnership ICE; our career fairs are open to organizations and companies who want to recruit Berkeley students."
MORE: Law school groups want women's rights organization barred from job fair
The executive director said that students should be able to make decisions about whom to work for and that the career center believes they can make a difference where they work.
"We also feel that it is important that our students have the ability to make their own judgments about which organizations or companies they want to join, and we support their right to choose," the executive director said. "Berkeley students can also make meaningful impacts on organizations and companies, shaping the future for generations to come."
The university "did not proactively invite ICE to the career fair, according to campus spokesperson Janet Gilmore," the student paper reported.
"Rather, a recent campus graduate working at ICE reached out to the Career Center hoping to recruit students for jobs and internships," the paper reported the spokesperson as saying.
MORE: GWU apologizes for promoting police recruitment event
IMAGE: Immigration and Customs Enforcement/YouTube
Like The College Fix on Facebook / Follow us on Twitter