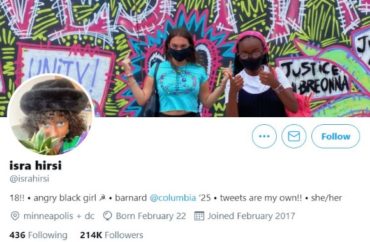 Isra Hirsi, daughter of Democratic Congresswoman Ilhan Omar, recently added the communist hammer and sickle to her Twitter account bio, the latest move from the incoming Columbia University student who frequently stumps for the deadly and oppressive political system.
Hirsi, 18, has become a public figure, with over 214,000 followers on Twitter, a TED Talk and prominent activism for climate change. She is slated to attend Columbia University this fall.
Hirsi also has a well documented history of supporting communism. Last year, she openly called for a revolution in this country:
"let's make it happen. who's ready for a revolution? #RIPCaptialism" she tweeted in May 2020.

Hirsi also uses her platform to promote anti-police events, including by retweeting a "ACAB [all cops are bastards]" protest that was posted by an account whose username is "@garbagefuckUSA."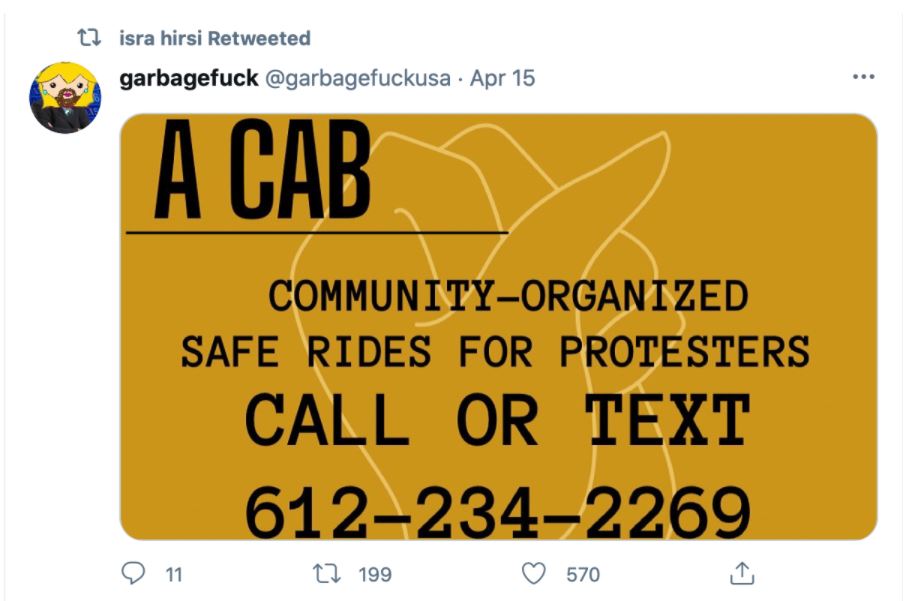 Omar's daughter also tweeted that "reminder: just because you are a leftist/communist/socialist doesn't mean you are automatically a good person."
The implication was that being a "leftist/communist/socialist" is a redeemable quality.
reminder: just because you are a leftist/communist/socialist doesn't mean you are automatically a good person.

— isra hirsi (@israhirsi) January 20, 2020
She also tweeted in November 2020: "progressivism is often used as a way to reel you in and then fuck you over. i mean look at the minneapolis city council."
While Hirsi's lack of punctuation and capitalization are not reflective of the capabilities typically associated with an Ivy League student, Hirsi still gained admission to one of the world's most prestigious universities.
Rep. Ilhan Omar's daughter added a communist symbol to her bio. Isra Hirsi has talked before about how she writes some of her mother's tweets. During the BLM race riots in her city, Isra put out a call for donations for rioters. She has also called for a communist insurrection. pic.twitter.com/gAViZZctPp

— Andy Ngô (@MrAndyNgo) May 20, 2021
As for Hirsi's climate change activism, she "co-founded US Youth Climate Strike in 2019 and has helped work on getting hundreds of strikes organized across the country," according to a Columbia University bio of her, which added that in 2020, "she was put on Fortune's 40 under 40 for her work."
Her mother, Congresswoman Ilhan Omar, is a member of the Democratic socialism "squad," and has been at the center of many controversies. She has also laughed about Al Qaeda, and came under intense criticism for saying "some people did something" in relation to 9/11.
Ilhan Omar has also been videotaped expressing her prejudice against Caucasians, claiming that "our country should be more fearful of white men." Omar also called the Minneapolis Police Department a "cancer" and "rotten to the core." She claimed it needs to be "dismantled."
The apple apparently did not fall far from the tree.
In a tweet that has garnered over 720,000 likes, Hirsi is photographed with her mother, Ilhan Omar, wearing a necklace that says "FTP," an acronym for "fuck the police."
In a statement to Fox News, a spokesperson for Representative Omar criticized Fox's reporting on the congresswoman's daughter's passion for communism as being "dangerous" and "highly irresponsible," citing death threats that he said Hirsi receives.
However, as Fox reports, the "congresswoman's daughter has amassed a massive following on Twitter and Instagram through her work with the U.S. Youth Climate Strike. She has also spoken at prestigious venues, including giving her own TED talk at Wake Forest University in North Carolina titled 'An Angry Black Girl.'"
Omar's office did not respond to emails Friday and Monday from The College Fix, which asked whether the congresswoman shares her daughter's views toward communism.
Hirsi also did not respond to repeated requests for comment.
The Columbia Republicans, in a statement to The College Fix, said that Hirsi has used her visibility to spread a message tinged with irony.
"As the daughter of a U.S. Representative, Isra Hirsi had used her platform to affirm an affiliate with ideology that runs contrary to the founding ideals of the United States," the statement read.
"This is no surprise, as Rep. Ilhan Omar has often done the same. While we endorse the open discussion and debate of ideas, members of the Columbia Communists support the opposite, an ideology which prohibits free speech and numerous other fundamental rights recognized by our constitution."
MORE: Columbia professor who fled communism resigns, says university is becoming communist
IMAGE: Twitter screenshot
Like The College Fix on Facebook / Follow us on Twitter