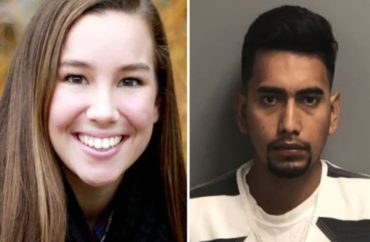 An illegal immigrant told authorities he kidnapped college student Mollie Tibbetts while she jogged in her Iowa hometown, then killed her and dumped her in a cornfield, police told reporters on Tuesday.
Cristhian Bahena Rivera, 24, was arrested and charged with the first-degree murder of Mollie Tibbetts, a 20-year-old student at University of Iowa who has been missing for about five weeks, a case that had captured the nation's attention.
For some time, police had focused in on a hog farm near where she disappeared July 18, but now authorities say a Mexican national confessed to the crime.
Tibbetts' body was found in a field covered with corn stalks Tuesday, the girl's father and two other sources told Fox News on Tuesday. According to the Chicago Tribune, Rivera himself led investigators to her body.
"I can't speak about the motive. I can just tell you that it seemed that he followed her, seemed to be drawn to her on that particular day, for whatever reason he chose to abduct her," special agent Rick Rahn told reporters at a news conference.
The Tribune adds:
The news that the highly publicized and gruesome crime was allegedly committed by a person in the country illegally drew immediate outrage. Iowa Gov. Kim Reynolds, a Republican, said: "As Iowans, we are heartbroken, and we are angry."

"We are angry that a broken immigration system allowed a predator like this to live in our community, and we will do all we can to bring justice to Mollie's killer," she said in a statement.

The arrest is likely to spark calls for a further crackdown on illegal immigration, which President Donald Trump has made a core policy of his administration.
In fact, Trump mentioned the development at a West Virginia rally Tuesday, CNN reports.
"You heard about today with the illegal alien coming in very sadly from Mexico. And you saw what happened to that incredible beautiful young woman. Should have never happened. Illegally in our country," he said.
The University of Iowa College Republicans also issued a statement on Facebook saying this case is an example why its members support Trump's border policies.
"THIS is why we want the wall. THIS is why we support ICE. THIS is what open borders look like. It's time liberal politicians stand up for the lives of innocent Americans and stop pandering to illegals. One life lost to an illegal alien is one too many, and this one hits too close to home," they stated. "This senseless killing could have been prevented. … It's time to act and secure our border before more lives are lost at the hands of illegal aliens."
Like The College Fix on Facebook / Follow us on Twitter