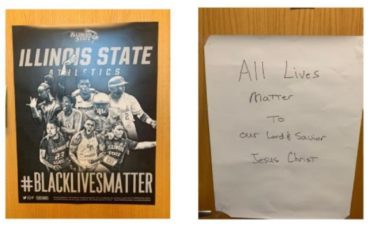 University says it fired him for poor performance
A former football coach for Illinois State University said that school officials fired him because he replaced a Black Lives Matter poster with one that said "All Lives Matter to our Lord and Savior Jesus Christ."
Offensive coordinator Kurt Beathard's federal lawsuit said the athletic director Larry Lyons and head coach Brock Spack fired him "for one reason and one reason only: He did not toe the party line regarding the Black Lives Matter organization."
Beathard returned to campus in "late summer" 2020 after taking time off to mourn the loss of his wife who died from cancer. When he returned, someone had put a Black Lives Matter poster (pictured) on his door. Spack told Beathard, according to the lawsuit, that "Black Lives Matter is freaking nuts."
Because of his religious beliefs, Beathard takes issue with the Black Lives Matter organization's embrace of Marxism. For that reason, he "removed the Black Lives Matter poster from his office door and replaced it with his own message: 'All Lives Matter to Our Lord and Savior Jesus Christ.'"
Took issue with 'trained Marxists' who run BLM
"I've successfully coached young men of all races, and I believe black lives matter. But I do not support the organization," he said in a news release from his attorney. "He contends in his lawsuit that BLM was founded by self-described 'trained Marxists,' it divides human beings by skin color, and it supports violence and property destruction."
"We are trained Marxists," Black Lives Matter co-founder Patrisse Cullors said in an interview about her and Alicia Garza. The video has since been made private.
While the handwriting poster hung on his door, the athletic director Lyons found himself in hot water for saying "All Redbirds Lives Matter" in reference to ISU athletes.
Spack asked Beathard to remove the poster, which the offensive coordinator did.
"Meanwhile, another coach who wanted to replace Beathard as offensive coordinator had taken a picture of Beathard's poster and shared it with the football players," the lawsuit alleges. Apparently, the picture upset some of the football players."
"On 9/1/20, some of the football players boycotted practice," the lawsuit said. "Spack came to Beathard's office and informed him that it looked like Lyons was going to keep his job but that Beathard was in trouble over the poster."
The next day, he lost his job because Spack did not "like the direction of the offense."
The university should have taught players about the importance of free speech, according to the lawsuit. "Instead, Defendants taught the football players that groupthink is paramount and that failure to toe the party line will result in termination."
He is seeking backpay and "punitive damages to deter future violations of the First Amendment."
"Illinois State University cannot provide comment on pending litigation," communications director Eric Jome told The College Fix on December 17.
The Fix asked for a response to the lawsuit and how the university handles differences in political opinions involving coaches and players.
The Fix also sent the same questions to the general contact email for the football team, as Spack's email is not listed. The Fix did not receive a response.
MORE: Check out the new cancel culture database
IMAGE: Kurt Beathard
Like The College Fix on Facebook / Follow us on Twitter