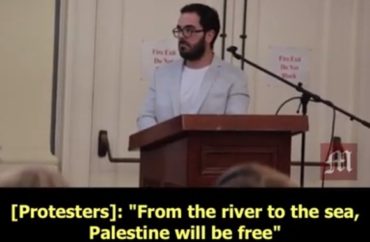 My people are 'breathing proof that Israel has saved lives'
As part of a recent three-week campus speaking tour, I traveled to colleges across North America to share my family's story. My father is Tunisian and my mother is Iraqi; their families came to Israel as refugees.
In my talks, I share their stories and those of the 850,000 Jewish refugees who were expelled from Arab and Muslim countries between 1941 and 1972. We are known as Mizrahi Jews, those whose families came from Arab and Muslim lands.
Because of this history, I am also an advocate for Israel. Not for a specific policy, government, or political party, but for my country's right to exist. Being an openly gay Israeli Jew of color, I'm used to my identity and message being the target of Neo-Nazis, radical Islamists, homophobes, and racists online.
What I did not anticipate was for dozens of students at Vassar College to protest my Nov. 14 appearance on campus by yelling antisemitic chants, all in the name of intersectionality, progressivism and Palestinian liberation.
For more than 15 minutes, roughly 30 students completely shut me down by shouting "From the river to the sea, Palestine will be free." Hearing this slogan pained me deeply. What these students either didn't know – or were willfully ignorant to – was that they were repeating an antisemitic phrase that dispossesses me of my identity and endangers my safety.
The slogan is frequently employed by Hamas to allude to the mass murder of all Jews living in Israel, located between the Jordan River and the Mediterranean Sea. It's so widely understood to be an offensive trope that CNN quickly fired its commentator Marc Lamont Hill, a professor at Temple University, for using it at the United Nations. He later apologized.
So why would students calling themselves progressives feel the need to use such a startling, antisemitic chant to make their presence known? How was shutting me down helping to advance their agenda?
As they were unwilling to engage in respectful dialogue, I do not know for sure. The most likely answer is that these students viewed me a threat because I offer a perspective that is extremely dangerous to their anti-Zionist narrative. The uncomfortable truth for these activists is that I, and millions of other Mizrahi Jews, are breathing proof that Israel has saved lives. Not only white lives, but also those of people of color.
The problem with such a reality is that it exposes a fundamental flaw of intersectional orthodoxy. In an attempt to advocate for the marginalized, these students shouted down the gay son of refugees. In an effort to stand up for minority rights, they denigrated a Jew of color. In the pursuit of peace, they – perhaps unknowingly – made public calls for the death of my family.
MORE: Columbia student government rejects BDS resolution
This was difficult to stomach. After all, I promote reconciliation and advocate for social justice. I fight racism, homophobia, and all forms of bigotry against any minority group. I did this for five years during my military service as a humanitarian officer in the West Bank, and I continue doing it today in my work to improve the lives of Palestinians and promote peace in the region.
Still, my progressive credentials didn't check every "woke" box. Instead of attending my talk and engaging in a courageous dialogue about the most heated conflict in the world today, these demonstrators chose to embrace fascist tactics to shut down speech that didn't conform to their party line – with no regard for my identity or the nuance of my positions.
If these students had made any effort to listen to my talk, they would have heard that my heart breaks for both Israeli and Palestinian families facing violence. My family, too, has been scarred by this conflict; my great-grandfather was falsely accused of being a Zionist spy and was hung in Baghdad in 1951.
Just as the members of my Ashkenazi Jewish family carry with them the horrors of the Holocaust, I too am haunted by the executions of my family members for the simple crime of being Jewish in Arab and Muslim countries. This is why I believe the security of my country and the future of its existence are critical.
Had the protesting students stopped to engage, they might have also heard me talk about my support for a Palestinian state. They would have understood that I encourage an open and tough debate about Israel, and that I have been critical of many policies of the Israeli government, as have many Israelis.
Instead, they made a spectacle to shut me down. They crossed a clear line into antisemitism, invoking a vision that disenfranchises a large community and effectively erases our stories in the process. This is about the least productive, least tactful way to promote Palestinian liberation.
I was always taught that progressivism was about tolerance and understanding, and I still believe that to be the case. Last week, these students did not live up to that ideal.
My parents were refugees who grew up in refugee camps in Israel. I do not have any other nationality. The progressive community needs to come to terms with this fact. And while they may disagree with my perspective, anyone selling their ideas using tactics like those I encountered isn't worth hearing.
Hen Mazzig is an Israeli Mizrahi writer, LGBTQ+ activist and editor-at-large of the J'accuse Coalition for Justice. He previously served as an officer in the Israel Defense Forces. Follow him on Twitter at @HenMazzig.
MORE: Students march in support of Marc Lamont Hill after anti-Semitic comments
IMAGE: Miscellany News/YouTube
Like The College Fix on Facebook / Follow us on Twitter