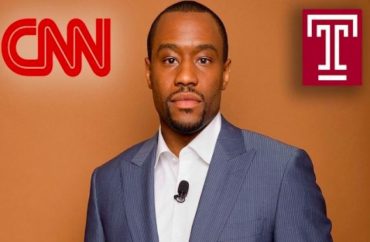 Approximately 60 supporters of Temple University's Marc Lamont Hill marched in solidarity with the controversial professor on Thursday, many waving Palestinian flags in the process.
Lamont Hill has been under fire for comments he made at the United Nations about Israel, notably his desire to see a "free Palestine from the river to the sea." The phrase is widely considered to be an anti-Semitic "dog whistle," one which seeks Israel's destruction. CNN fired him shortly after he made the remarks.
The chairman of Temple's board, Patrick O'Connor, called Lamont Hill's comments "lamentable" and "disgusting," and added the university would look into what "remedies" it has to deal with the matter. According to Philly.com, that last comment  served as the catalyst for Thursday's protest.
The protesters chanted in unison the phrase which got Lamont Hill into trouble. Palestinian American "writer and political activist" Susan Abulhawa said "We're here to support Marc Lamont Hill. Temple is threatening to dismiss him and trying to destroy his life. We're here to show [Temple president Richard M.] Englert and the university trustees they can't censor this faculty."
Student Hayley Kanonji added "I hope they don't fire him […] He has a right to voice his opinions."
Roughly 40 counter-protesters also were in attendance, some demanding that Temple fire Lamont Hill.
Directly across the sidewalk, Steve Feldman, executive director of the Zionist Organization of America's Philadelphia chapter, led an opposing chant that grew in intensity.

"Am Yisrael Chai," the smaller group shouted. The Hebrew phrase loosely translates to "the nation of Israel lives." Feldman and his group later launched into "The Star-Spangled Banner" in an attempt to drown out Hill's supporters. …

Robert Sklaroff, an oncologist from Elkins Park, demanded Hill's immediate ouster.

"His words were an overt exhortation to annihilate Israel," said Sklaroff, adding that he applauded CNN's decision to fire Hill. "The university trotted out the hackneyed coward's defense that while it does not share Hill's views, it supports his constitutional free-speech right to say whatever he pleases."
In a December 1 op-ed, Lamont Hill said he was "stunned" and "saddened" that many thought his remarks were a call for violence against Jewish people.
"My use of 'river to the sea' was an invocation of a long history of political actors – liberal and radical, Palestinian and Israeli – who have called for their particular vision of justice in the area from the Jordan River to the Mediterranean Sea," he wrote. For him (and others), such is "a single bi-national democratic state that encompasses Israel, the West Bank, and Gaza."
MORE: Live by the sword …
MORE: Marc Lamont Hill praises cop-killing terrorist
IMAGE: Twitter
Like The College Fix on Facebook / Follow us on Twitter