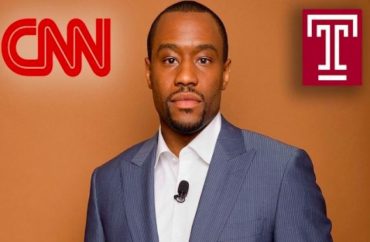 Karma (noun): action, seen as bringing upon oneself inevitable results, good or bad, either in this life or in a reincarnation.
This past week, "hip hop" professor and frequent cable news talking head Marc Lamont Hill lost his gig at CNN after uttering a phrase long perceived to be anti-Semitic.
During a meeting at the United Nations on Wednesday, Lamont Hill expressed a desire for a "free Palestine from the river to the sea." The terror group Hamas and others use this phrase when calling for Israel's obliteration.
As National Review's Charles C.W. Cooke points out, many see this phrase as a so-called "dog whistle"; with it, Lamont Hill "signaled to the more clued-in and pernicious members of his audience that what he really covets is the destruction of Israel."
This by no means is a far-fetched claim; after all, Lamont Hill is an admirer of Louis Farrakhan.
Marc Lamont Hill hanging out with his mentor and fellow Jew hater Farrakhan. Birds of a feather….. pic.twitter.com/7UNENZerrI

— Segen (@StatistSmacker) November 30, 2018
Naturally, Lamont Hill vigorously denied he is anti-Semitic, and expressed misgivings that criticism of Israel is often (and wrongly) equated with anti-Semitism.
"I support Palestinian freedom. I support Palestinian self-determination. I am deeply critical of Israeli policy and practice," he tweeted. "I do not support anti-Semitism, killing Jewish people, or any of the other things attributed to my speech."
But Lamont Hill has made a career in cable news punditry by "discovering" dog whistles allegedly employed by others, usually always Republicans. Most recently, he accused Florida Governor-elect Ron DeSantis of "playing on the same racist and divisive tactics that too often decide American elections." He made sure to use the term "dog whistle" several times, too:
Not to be outdone by anyone in the field of racial dog whistling, Trump sent out a tweet a week before the election that described DeSantis as "a Harvard/Yale man," tacitly inviting a comparison of DeSantis' Ivy League pedigree to Gillum's graduation from FAMU [Florida A&M]. Trump understood that white supremacist logic often encourages people to assume that a highly esteemed HBCU [Historically Black College/University] like FAMU must be inferior simply because it is historically black. Less subtly, Trump also referred to Gillum as a "thief," continuing his pattern of using stereotypes like "lazy" and "low IQ" to describe black people with whom he disagrees. 
This summer, Lamont Hill also found a dog whistle in a youth's "Make America Great Again" hat — it "reads like a swastika to me" — and took joy in the teen having a drink dumped on him by an anti-Trump adult.
Other instances of the professor's "brilliance" include referring to the Baltimore Police Department as an "occupying force in the 'hood," mocking Mylie Cyrus's faith and former New Jersey governor Chris Christie's weight, and referring to blacks who met with President Trump as "mediocre Negroes."
Though Lamont Hill is no longer with CNN, Temple University stands by him. A Temple spokesman said the school acknowledges that the professor "has a constitutionally protected right to express his opinion as a private citizen."
This didn't stop Patrick O'Connor, chairman of Temple's board, from issuing a blistering statement on Friday. He called Lamont Hill's comments "lamentable" and "disgusting," and added the board is "going to look at what remedies" it has.
But — hoo boy — O'Connor gave Lamont Hill another dog whistle opening: He said the professor's UN speech "blackens our name unnecessarily."
MORE: Marc Lamont Hill praises cop-killing terrorist
MORE: The most daft professorial quotes, theories about the Baltimore riots
IMAGE: Twitter
Like The College Fix on Facebook / Follow us on Twitter