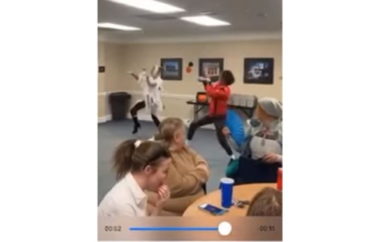 UPDATED
Picture, video shows professor in traditional zombie makeup, not blackface
Washburn University officials are staying silent on whether they have completed their investigation into a professor who wore a Michael Jackson "Thriller" zombie Halloween costume and what consequences, if any, the scholar faces — or if she has been cleared in light of new evidence.
University officials did not respond to The College Fix's recent emails seeking an update on the probe into chemistry Professor Holly O'Neill, interim assistant dean of the College of Arts and Sciences.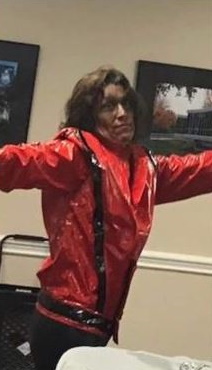 The questions sent by The Fix in both November and December came after images and video obtained by the Washburn Review student newspaper show the professor is in traditional dark-greenish zombie makeup, not blackface, as some had suggested.
The accusations had prompted a protest and calls for more diversity as well as accusations against the scholar for cultural appropriation.
But the student newspaper reported Nov. 4 that some said "her skin looked darker during her reenactment … due to the lighting of the room. Others [said she] had simply worn makeup to look like a zombie as singer Michael Jackson did in his music video 'Thriller.'"
In a Dec. 6 email to The College Fix, O'Neill said "We were all dressed and painted as zombies to recreate the Thriller video at a department party. I apologize for the costume, there was no disrespect intended."
The incident first made headlines in late October, with several Kansas news outlets reporting the chemist was "under review."
Lori Hutchinson, interim director of public relations, told the Washburn Review student newspaper on Oct. 28 that campus officials are "reviewing concerns raised about a costume worn by an employee to an on-campus Halloween party Thursday, Oct. 27."
"We are gathering information and hearing perspectives from the students, faculty and staff who were involved and have been affected before developing a response to the situation. Washburn's commitment to an inclusive campus community will be an important part of this review process," the statement said.
According to the student newspaper, O'Neill "performed a dance to Michael Jackson's song 'Thriller.' A video of the performance was posted onto Facebook, then quickly deleted." WIBM reported that some said "her skin looked dark during the routine."
But a newly surfaced video of the "Thriller" reenactment shows the scholars had spent some time memorizing dance steps in a performance that appears to be all in good fun to mark Halloween.
KSNT Topeka reported that the Black Student Union held a protest in response.
"We hope to get a meeting with the administration about hearing requests that we have as an organization to better the diversity and inclusion here on campus," one student told the news outlet.
However, images and video obtained by the Washburn Review show the professor is in traditional zombie makeup, not blackface.
"Students and faculty have the right to a discrimination-free campus. They also have the right to freely express themselves," said Alex Morey, the director of campus rights advocacy for the Foundation for Individual Rights and Expression, in a statement to The College Fix.
"These rights need not be in tension," she said. "That's why colleges and universities can't investigate or punish offensive speech or expressive conduct alone. Instead, actionable discriminatory conduct needs to meet very specific legal standards. Painting one's face like a zombie for a Halloween costume won't meet this standard — even where it evokes our country's painful history of racism."
"The appropriate response to these situations is continued conversation around these thorny issues, rather than knee-jerk censorship. When schools investigate purely expressive conduct, like wearing a costume, as if it were actionable discrimination, it chills speech on campus and diverts resources from students facing actual discrimination or harassment."
Earlier this year, The College Fix reported on noted female scientist Julie Overbaugh who ended up resigning her position at the University of Washington School of Medicine because she too had dressed up as Michael Jackson in "Thriller" — in 2009.
Editor's note: The article has been updated to include a statement from FIRE.
MORE: Top female scientist canceled over 13-year-old 'Michael Jackson' Halloween costume
IMAGES: YouTube screenshots
Like The College Fix on Facebook / Follow us on Twitter