UPDATED
A chemistry professor at Kansas's Washburn University is under investigation for allegedly committing "cultural appropriation" at a faculty Halloween party.
According to the Washburn Review, Holly O'Neill dressed up as "King of Pop" Michael Jackson at the English Department's October 27 Halloween party.
She also reportedly "performed a dance" to Jackson's hit song "Thriller."
A video of O'Neill's exhibition was uploaded to Facebook but was "quickly deleted," the Review notes.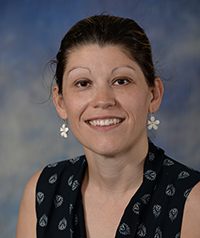 Although "several sources connected to the matter" did not respond to inquiries from the Review, Washburn Interim Director of Public Relations Lori Hutchinson told the paper the university "is reviewing concerns raised about a costume worn by an employee to an on-campus Halloween party."
Hutchinson added officials are "gathering information and hearing perspectives from the students, faculty and staff who were involved and have been affected before developing a response to the situation."
The College Fix asked both O'Neill (pictured) and Associate Vice President for Student Life Teresa Clounch via email if blackface was part of the Michael Jackson costume. Neither responded.
A week before the incident, Washburn's Campus Activities Board held a confab to "educate students on cultural appropriation, its effects on society and how it relates to costumes."
Campus Activities Board Cultural Program Director Megan Dorantes, a Washburn senior, defined "cultural appropriation" as aspects from a "non-dominant culture" used by someone from the "dominant culture" without "acknowledgment of creation, societal benefits and respect."
Dorantes "encouraged" her peers to "correct" anyone they see engaging in cultural appropriation.
Earlier this year, The College Fix reported on noted female scientist Julie Overbaugh who ended up resigning her position at the University of Washington School of Medicine because she too had dressed up as Michael Jackson in "Thriller" … all the way back in 2009.
While it remains unknown if O'Neill used blackface, Overbaugh did, and as a result the scientist — who often worked in Africa — underwent an "intensive education and reflection process."
UPDATE: According to WIBW, O'Neill may have used blackface during her performance as "some at the university say her skin looked dark during the routine."
"According to the review conducted by Washburn, some people say it could have been the lighting of the room, or O'Neill could have been wearing makeup to look like a zombie, as Michael Jackson did in the original video."
In O'Neill's apology she seemed to confirm the latter: "My costume and makeup was a poor effort to look like a zombie from the thriller [sic] video, and I meant no disrespect."
MORE: Profs punished in July 2022 for Halloween costumes they wore in 2014
MORE: University threatens to investigate students for Halloween parties that 'reinforce stereotypes'
IMAGES: Michael Jackson/YouTube screencap; Washburn U. screencap
Like The College Fix on Facebook / Follow us on Twitter