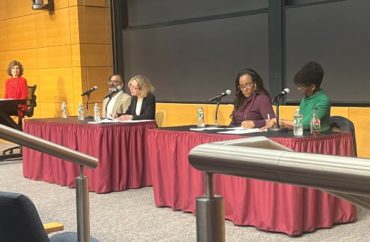 'DEI is derailed when activists say men who want to be women are equal to women and allow those men access to women's hard-earned rights,' pro-DEI scholar says
CAMBRIDGE, MASS. — The resolution "Academic DEI programs should be abolished" drew a large crowd to the Massachusetts Institute of Technology on Tuesday evening as four scholars debated the hot-button issue in front of nearly 300 people.
Despite disagreement on the fundamental value of DEI, both sides agreed on the flawed or misguided nature of many diversity programs.
Pamela "Denise" Long, CEO of DEI consulting organization YouthCentrix, defended preferential treatment for American descendants of slaves but said DEI has in some ways been hijacked by activists representing other interests.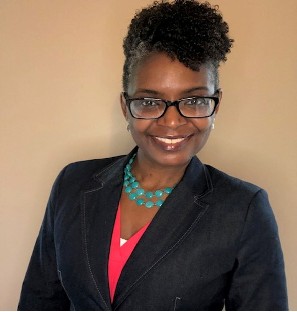 "[American] Negros should forever have a special relationship with our nation that enslaved us since 1776," Long (pictured, right) said.
"We are those folk who endured a hundred years of abhorrent, unimaginable, unconstitutional discrimination until 1960, and those of us who have continuously experienced disproportionate negative impact of social policy even until today," she said.
However, "DEI makes things worse when advocates attempt to shoehorn the ambitions of all people onto the backs of U.S. slaves and our legacy," Long said.
"DEI is derailed when activists say men who want to be women are equal to women and allow those men access to women's hard-earned rights," Long continued. "DEI is derailed when they say that 'minor-attracted people' is just a sexual preference. … To hook that to our legacy as slaves is wrong and egregious."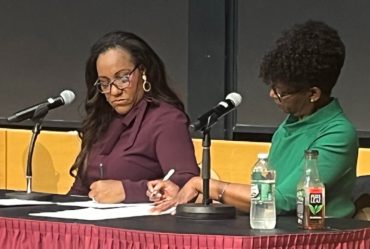 Karith Foster, diversity consultant with INVERSITY solutions, also spoke on the importance of DEI, but had strong words about many of its existing programs.
"DEI is necessary," said Foster (left, in purple). "When done well, lives can be transformed and transported to an infinitely better place. When DEI is done poorly — and let's be blatantly honest, it's taken a left turn — it creates insurmountable barriers of fear, mistrust, vengeance and indifference."
However, "looking to eradicate an effort, as badly as it's been done, is not an answer either," Foster continued. "We need to reform DEI and all our conversations and programs around it."
DEI ideas are 'a wolf in sheep's clothing,' McGill professor countered
"Diversity, equity and inclusion sound wonderful," chemist and McGill University Professor Pat Kambhampati, who argued for the abolition of academic DEI programs, said at the opening of the debate. "But these ideas are a wolf in sheep's clothing."
"Let's begin with equity," said Kambhampati (below left). "Equity involves redistribution of resources from me to you."
"We had economic Marxism a century ago," he said. "Now in Cambridge in [the 2020s], we have cultural Marxism."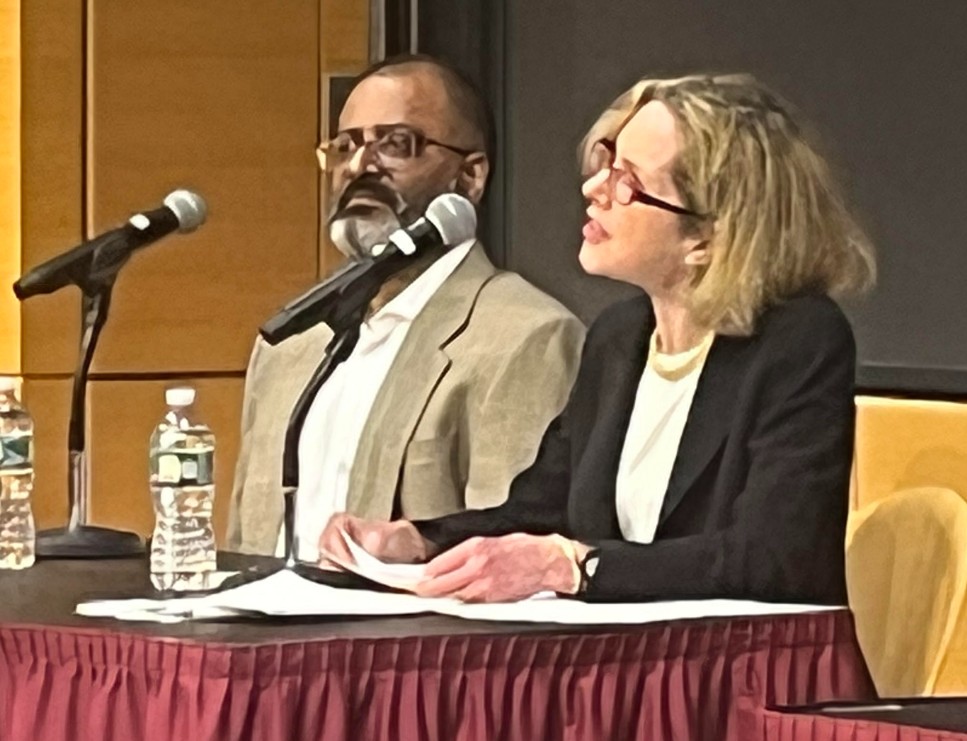 Heather Mac Donald, author and Manhattan Institute fellow, spoke up forcefully in favor of DEI program abolition. Mac Donald serves on the College Fix Advisory Board.
"A university's task is the pursuit of truth," Mac Donald said. "The DEI bureaucracy is founded on a lie. A lie which teaches students to think of themselves as victims and to see racism where none exists. It [creates] through racial preferences the very divisions and discomforts that it purports to solve in an endless vicious cycle."
"Campus diversity bureaucrats … suck up vast sums of money, narrow the acceptable range of discourse, and force the adoption of double standards of achievement. Universities should embrace a single, colorblind version of academic excellence. It will only do so however by eliminating DEI fiefdoms and by replacing identity with merit as the touchstone of academic accomplishment."
Nonetheless, "it is the academic skills gap which gives rise to the entire academic diversity apparatus," Mac Donald later elaborated in an email to The Fix.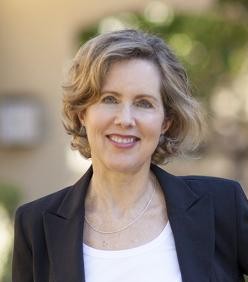 "The purpose of that apparatus is to re-cast the inevitable academic struggles of students admitted with large racial preferences into struggles with racism," Mac Donald said.
"Nothing a DEI administrator does can possibly solve the academic skills gap problem, which begins to manifest itself in the earliest years of a child's life. Even were DEI administrators remotely competent to solve that problem, which they manifestly are not, they enter the picture 14 years too late."
The debate was uploaded to YouTube on Tuesday night and has been viewed approximately 4,200 times as of Wednesday.
The auditorium, which seats almost 300 people, was nearly full. A quiet and attentive crowd allowed the event to proceed undisturbed. Nadine Strossen, professor emerita at New York Law School and past president of the ACLU, moderated the debate.
Organizers said they were "delighted" at how the event proceeded, economist and co-organizer Eric Rasmusen wrote in an April 5 email to The Fix.
"No police were present, no threats were made, and the debate and audience questioning proceeded respectfully— though not because the debaters didn't stake out their positions in very strong and opposing terms," he said.
Approximately 100 MIT scholars, include several DEI deans, were asked to participate in the debate, but all declined or did not respond except for one professor, The College Fix reported last month. None of the panelists, pro or anti-DEI, were formally affiliated with the university.
The event was hosted by the university's Adam Smith Society and MIT Free Speech Alliance. Fifteen other organizations also co-sponsored the debate, including American Council of Trustees and Alumni, Foundation for Individual Rights and Expression, Foundation Against Intolerance and Racism and the Alumni Free Speech Alliance.
MORE: Professors propose 'Merit, Fairness and Equality' to combat DEI regime
IMAGES: Maggie Kelly for The College Fix; American Evaluation Association; Manhattan Institute
Like The College Fix on Facebook / Follow us on Twitter