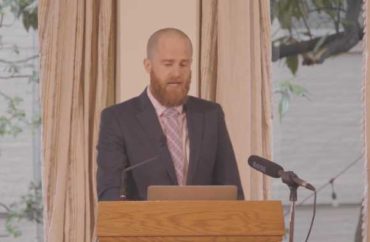 Professors aimed to 'come up with something positive as a goal … rather than to just criticize'
Six professors continue to promote an alternative system to Diversity, Equity and Inclusion, called Merit, Fairness and Equality.
"In order to protect the integrity of universities it is necessary to offer an alternative to the DEI agenda," professors Dorian Abbot (pictured), Iván Marinovic, Richard Lowery and Carlos Carvalho wrote in an August 5 post on their Substack blog Heterodox STEM.
The blog post notes that two additional authors contributed to the post, but couldn't reveal their identities "due to potential retaliation."
Abbot is a geophysicist at the University of Chicago, Marinovic is an accounting professor at Stanford, and Lowery and Carvalho are business professors at the University of Texas at Austin.
Abbot and Marinovic created the MFE alternative framework together in October 2021, shortly following a canceled speech to be given by Abbot at MIT. Activists had criticized his past comments on diversity initiatives.
"In MFE all academic decisions are based on academic merit, with no other considerations taken into account," which "promotes the mission of universities: the production of knowledge," the authors wrote.
The authors argued that their proposal would promote free speech and viewpoint diversity, writing that "ideas generated need to be judged by the academic community based on their merits, not whether some authority deems them to be 'disinformation' or even dangerous."
"The idea was to try to come up with something positive as a goal that those of us concerned about the academy can work toward," instead of just criticizing DEI, Abbot told The Fix on August 8.
Later that year, Abbot launched the "Heterodox STEM" Substack, which describes itself as "a forum for open-minded and respectful conversations about issues relevant to the STEM community." It is now part of one of the communities associated with the Heterodox Academy, an organization dedicated to increasing viewpoint diversity and freedom of thought within universities.
However, educational institutions do not seem primed to make the switch
Richard Lowery told The College Fix via email August 11 that he "can't comment on whether anyone has expressed interest."
"Certainly there is zero interest in anything relating to merit, fairness, or equality at UT-Austin, and every single administrator and the vast majority of the faculty are hell-bent on going in the opposite direction," Lowery said.
Although this new framework has received some traction online, "no one has officially adopted MFE yet," Abbot told The Fix in an August 11 email.
"Many people are concerned about potential biases in evaluations. MFE gives a productive framework to try to deal with those biases that is not fundamentally antagonistic to the pursuit of truth," Abbot wrote in his email.
"The key point … is that the metric for success is always academic excellence, and the resulting distribution of immutable characteristics among those selected is never taken into account," the academics wrote in the blog post.
DEI is a 'utopian ideology,' authors state
The August 6 post criticized DEI, calling it a "utopian ideology" that violates "the moral principles of treating all human beings equally and not using them as mere instruments to achieve socio-political ends."
Merit, Fairness and Equality is a more "morally justified approach" than DEI, the authors argue, saying that, "in deference to their individual dignity, each person is treated equally and given an equal shot."
The professors encouraged widespread adoption of their new framework, writing, "the MFE concept does not belong to us, and we hope that others will adopt it as their own and build on it."
MORE: Meet the two professors working to replace DEI with MFE: 'Merit, Fairness and Equality'
Like The College Fix on Facebook / Follow us on Twitter