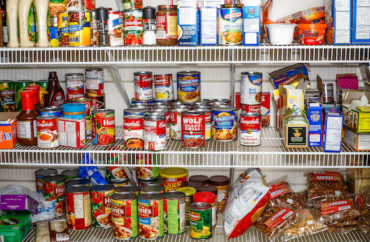 'We operate on a take-what-you-need basis'
In a time when the once-unknown term "food insecurity" is a matter of official government policy, and when college costs are skyrocketing at universities nationwide, campuses across the country have been launching food pantries to help serve needy students, faculty and staff who are struggling to get enough meals.
In 2014, activists at the University of California, Berkeley decided to create a resource to help struggling community members feed themselves. The UC Berkeley Food Pantry was launched as a way to "provide emergency supplemental nutrition support to the 39% of undergraduates and 23% of graduate students in need."
Emma Jiang, one of the coordinators of the school's food pantry, told The College Fix that the initiative is an entirely student-founded and student-run program that serves over 4,000 students, staff and faculty every month.
"We operate on a take what you need basis, as often as you need it, keeping in mind that the resource is a shared space policy and [we] encourage all members of the UC Berkeley campus community to use the resource if they need it," Jiang told The Fix via email.
When the pantry originally started, attendees were allowed to visit twice a month and take up to five items per visit. This rule was recently changed in the spring of 2019 to the current policy described by Jiang.
Jiang said each visitor to the food pantry "takes on average 7 shelf-stable items per visit." The pantry receives around "400lbs of donated bread and fresh produce in a week," she added.
The pantry "is not for students and staff who need supplemental snacking food, but rather, core food support," the website declares. In its first year, the pantry served around 200 individuals for month; the 4,000 per month it now serves represents an increase of 1900 percent.
According to the UC Undergraduate Experience Survey, since 2010, one out of every five Berkeley students reported having to "skip meals to save money."
One-per-week limit
The food pantry at the University of Washington, meanwhile, "provides food assistance to students, staff, and faculty who for whatever reason are having a hard time putting food on their plate."
"It could be the result of a short-term disruption in your finances, a food desert in your community, or a lack of access to other financial assistance. If you are making a choice between the food you need to sustain a healthy life and other pressing priorities we call this experience food insecurity," the website declares.
The pantry allows students, staff and faculty to shop once per week. Attendees are able to access fresh produce, canned or boxed food and "grab and go meals." Officials working at that pantry did not respond to College Fix queries about the number of individuals the pantry serves.
The university actually offers multiple types of food assistance, including a $100 "food security grant" and a discount campus bulk food store known as the Bean Basket.
Food pantry open to everyone, not just students
Central Arizona College, a community college, has a food pantry meant for "those in need to visit and take items as needed." According to its website, the pantry was created "to improve student success and increase upward mobility by combating the negative effects of hunger within our community." The school's website states that the pantry is "open at all Central Arizona College library locations."
According to The Maricopa Monitor, the program launched in June of last year. Run by five faculty members, the pantries are not restricted to members of the college community; indeed, individuals are not asked for identification of any kind prior to being granted access to the pantry. Toiletries are also available.
Officials there did not respond to queries asking about the pantry's popularity.
A study published in the journal Nutrients in 2018 said that widespread food pantries on college campuses are a "relatively recent phenomenon" that have lately "increased in response to students' food insecurity." As of May 2018, the study determined, "640 food pantries were registered in the College and University Food Bank Alliance." *The CUFBA is a "national association that tracks and supports initiatives to reduce hunger, food insecurity, and poverty rates among college students.")
A survey of college students included with the study indicated that only around 15 percent of them had used their campus food pantry, though that number shot up to more than half for "very low food security" individuals.
MORE: Sacramento State latest public university to open campus food pantry
MORE: Harvard signs 'Cool Food Pledge'
IMAGE: Darryl Brooks / Shutterstock.com
Like The College Fix on Facebook / Follow us on Twitter