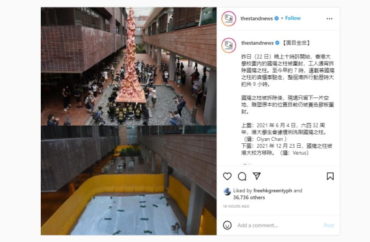 Officials make good on their threat to remove sculpture
Students at Hong Kong University woke up Thursday to find their campus devoid of a sculpture honoring the protesters who were killed by the Chinese Communist Party during the 1989 Tiananmen Square massacre.
The sculpture had stood on the campus for more than two decades, but on Wednesday night, workers quickly descended on the monument, took it down, and hauled it off, according to reports.
"Starting at 10 o'clock in the evening yesterday (22nd), the pillar of national death on the campus of the University of Hong Kong was enclosed, and workers demolished the pillar," reports the Hong Kong-based Stand News. "At about 7 o'clock in the morning, the container truck carrying the Pillar of Sorrow drove away. The entire demolition operation lasted about 9 hours."
"After the Pillar of National Sorrow was removed, only a piece of empty space was left on the scene, and the original location of the sculpture is still enclosed by yellow plastic panels."
#BREAKING whole area around the #PillarOfShame in #HKU has been covered up by white plastic sheets and surrounded by yellow boards. Lots of noises can be heard but security guards have been driving me away and asking me not to film, while refusing to answer what's going on. pic.twitter.com/PgLl9XzHpK

— Xinqi Su 蘇昕琪 (@XinqiSu) December 22, 2021
In October, Hong Kong University demanded that pro-freedom campus activists "immediately … make arrangements for the sculpture to be removed from the university's premises." If it wasn't removed, it would be deemed abandoned and the university would have the authority to remove it at will.
The South Wales Argus reports:
The dismantling of the sculpture came days after pro-Beijing candidates scored a landslide victory in the Hong Kong legislative elections, following amendments in election laws allowed the vetting of all candidates to ensure they are so-called "patriots" loyal to Beijing.

The removal also happened in the same week Hong Kong leader Carrie Lam travelled to Beijing to report on developments in the semi-autonomous Chinese city, where authorities have silenced dissent following the implementation of a sweeping national security law.
"Clearly, the Chinese Communist Party is now attempting to erase all memory of the June 4th Tiananmen Square massacre, and stop letting Hong Kong's future generations know how they massacred students who fought for democracy," Kungnen Kao, an international student from Hong Kong who attends Cornell University, previously told The College Fix about this matter.
"They do this to stop Hong Kong's future generations from developing the same hatred toward the CCP and desire for democracy that this generation of Hongkongers have."
MORE: Check out The College Fix's Campus Cancel Culture Database
IMAGE: Stand News
Like The College Fix on Facebook / Follow us on Twitter