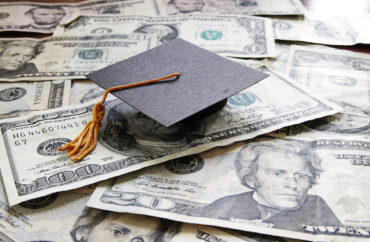 The American Council of Trustees and Alumni's newly released analysis of tuition and spending trends has found in-state tuition and fees have increased nearly 200 percent since 1990.
A key finding in the report, "The Cost of Excess: Why Colleges Must Control Runaway Spending," is that the average package of in-state tuition and fees has nearly tripled over the past 30 years, a 178 percent increase since 1990.
Making matters worse, such spending has not manifested in improvements concerning four-year graduation rates, the report notes.
Michael Poliakoff, president of ACTA, said he hopes the data will encourage university leaders to make more prudent choices in the future.
Poliakoff, a former Rhodes Scholar who has taught at various institutions and now at George Mason University, said he believes that substantive higher education reform is not out of the realm of possibility. but trustees should take the lead in helping campuses be more austere.
"The main responsibility of the board of trustees is to look at data to assess what is going well and what is not," Poliakoff said in an email to The College Fix.
From 2012 to 2018, the report found, colleges and universities codified their own bureaucratic needs above students, prioritizing the hiring of inexperienced and less expensive instructors while simultaneously employing expensive administrative staff.
Poliakoff noted, for example, that the University of California Berkeley spends $34 million annually on its office for equity and inclusion.
Perhaps most striking, nearly two-thirds of all students need to borrow money to finance their education. The figure catalyzes the fact that student loan debt is the second-largest source of debt behind home mortgages—rising to over $1.7 billion in 2021, the report notes.
Even though the spending rate for student services eclipses instruction, the report illustrates that spending on student services has no correlation with graduation rates at public institutions.
"[B]efore donors write large checks, perhaps they would be better off conditioning their gifts on the fulfillment of certain commitments or a goal that they would like advanced on campus, like the promotion of free speech," Poliakoff said.
When asked how trustees and alumni, beyond donations and funding, can help incentivize colleges and universities to hire more credentialed instructional staff and less expensive administrative staff, Poliakoff said the buck stops with trustees.
"The reality is that the board of trustees has the 'power of the purse.' Therefore, the board of trustees must conduct a thorough rundown of staffing and look at more significant trends to ensure something is not going wrong," he told The Fix.
Poliakoff continued, "however, when analyzing the trends of 2018, there were 466,000 full-time members of instructional staff at a collegiate level compared to more than one million full-time non-instructional staff members. So there is something deeply wrong at this time. I mean, what are we doing here, given that instructional staffing is the lifeblood of higher education?"
Poliakoff notes that, with concern to viable solutions, the push for student debt cancelation on a federal level is not only misguided, but counterintuitive.
"How did we get here? First, $1.7 trillion dollars in student debt did certainly not arise due to government cutbacks in support," Poliakoff said in his email.
In actuality, according to Poliakoff, tuition continued to rise during increased levels of government support. The real issue, he argued, is one of "perverse incentives and revenue models, which encourages irrational spending habits and, thereby, creates tuition hikes for students and their families."
Poliakoff said students should make their experiences known and their voices heard so they can help change the mindset of trustees and administrators to look at the "dollar of every expense as being of the utmost importance."
MORE: Blame college trustees for campus insanity: columnist
IMAGE: Zimmy TWS / Shutterstock
Like The College Fix on Facebook / Follow us on Twitter