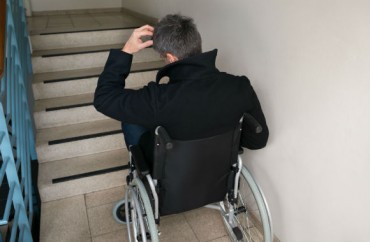 UPDATED
Dispute over alleged theft and burning of Confederate flag
If Juniata College's diversity efforts were intended to promote more inclusiveness, some students fell through the cracks.
The Pennsylvania college founded by pacifist Protestants has programs to teach students how to protest on and off campus and critique "whiteness," and it uses paid "stewards" to guide hiring decisions toward people of color.
But as it devotes resources to causes that are currently popular with liberal-minded students, Juniata is failing its basic duty to disabled students on campus, according to a Juniata employee who contacted The College Fix out of frustration with the college's priorities.
At the same time the school is creating a hostile environment for students who don't agree with its "increasingly radical" agenda, said the employee, who asked to remain anonymous.
West Virginia University has also been accused recently of violating Americans with Disability Act regulations for years, despite pleas from disabled students, while it prioritizes building gender-neutral restrooms, Campus Reform reported.
No one was in charge before August
Juniata Director of Media Relations John Wall confirmed the anonymous employee's claim that only one person is assigned to disability services.
That professional comes from the Academic Support Services department, and no one was in charge of disability services before August, Wall told The Fix in an email.
The Department of Diversity and Inclusion has a president and two full-time staff. Wall said that four other Juniata employees can be assigned disability-related duties when needed.
"So far, we have not added full-time staff in that office – we have reassigned responsibilities within the office. Once the college hires a new associate director, the disability services director will be devoted full-time to the job," said Wall.
Activist-in-chief 'riled up' students against dining-services provider
While disabled students deal with an understaffed department, budding social-justice activists have a smorgasbord of possibilities, the Juniata employee told The Fix.
Last fall David Ragland, an assistant professor of peace and conflict studies, began a program called Activists in Residence to expose students to "current social justice movements."
One of its residencies included three activists from Ferguson Frontline, which aims to spread awareness about police violence, according to a Juniata press release.
It quoted Ragland, who is black, calling out "white Americans" for not helping to curb police violence, which "happens because America allows it to happen."
Ragland already had a reputation for using racial slurs against black leaders with whom he disagrees, calling Republican presidential candidate Ben Carson a "handkerchief head" and Colin Powell a "house ni***."
The Ferguson activists' visit coincided with a student protest in November. According to the Juniata employee, they "riled up students" against campus dining provider Sodexo for its "unfair labor practices, while still eating in the school cafeteria throughout their visit."
A subsequent student petition against Sodexo fell flat, the employee said.
Juniata spokesman Wall told The Fix the Sodexo protest was planned by the Peace and Conflict Studies student club in response to Sodexo's investments in private prison corporations. He said it was "perhaps inspired by a lecture during the week the activists were here."
Ragland egged on the students, according to a tweet by Juniata's Baker Institute for Peace & Conflict Studies.
Ragland: "Sodexo benefits from prisons. They own prisons. We can start right here. We can divest from fossil fuels…divest from prisons."

— Juniata College PAX (@juniatapax) November 5, 2015
Confederate flag allegedly stolen and burned
The employee alleged the Ferguson activists' presence inspired a student to steal a Confederate flag from a home off campus in surrounding Huntingdon and then burn it, recording and uploading the arson.
The student was caught but never punished for the theft, an action subject to disciplinary action under Juniata's policy handbook, the employee said.
Juniata student Conor Dimond referenced the burning-flag incident in a Juniatian column in December, sympathizing with protesters but condemning their excesses. He did not respond to a Fix inquiry for comment.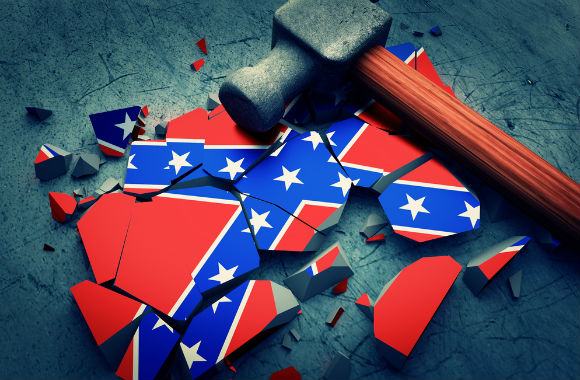 Wall denies that the Confederate flag burning occurred. He said the school received notice of it through Yik Yak, where students had posted a picture of the flag on their porch. Students had already taken down whatever video they posted by the time the dean of students' office investigated, Wall said.
"At the meeting the dean's office underlined students' responsibility to respect the property and rights of others. There was no material evidence of the incident available, so no further action was taken," Wall said.
Helping students 'take a stand against police brutality'
Ragland plans to continue Activists in Residence with at least one program in the spring and hopes to even take students to Ferguson, Mo., where protests followed the shooting death of Michael Brown in 2014.
Ragland himself is a frequent participant in Black Lives Matter protests, traveling to New York last month.
Real tough NYPD … Peaceful protesters pic.twitter.com/k4sDHXumvQ

— Dave Ragland (@davidragland1) January 12, 2016
Juniata's involvement with Black Lives Matter did not begin with Activists in Residence. Campus Reform reported last month on Juniata encouraging students to attend a 2014 Black Lives Matter protest called Millions March NYC in New York City.
A flyer on the Office of Diversity & Inclusion's Facebook page asked students: "ARE YOU READY TO TAKE A STAND AGAINST POLICE BRUTALITY?!"
"The College did not provide a bus or funding specifically for the March," Wall told The Fix. "The college supports any trip to attend events of historical import, just as we supported students driving to Selma to work for civil rights in 1965."
The offensive Facebook photo
Though the alleged Confederate flag burner was not punished for stealing, Juniata investigated an "offensive" Facebook photo.
Its Bias Response Team aims to "raise immediate concerns regarding specific instances of harassment or other acts of bias-based behavior that appear to violate Juniata's commitment to developing a campus community that celebrates and actively supports diversity along a variety of dimensions."
Last spring an LGBT student filed a bias incident report against Dean Polisena, a star tennis player from Australia, for an offensive Facebook photo, the Juniata employee told The Fix. It featured Polisena cross-dressing in the dining hall after losing a bet.
Polisena was not punished, according to Wall: "The student who had dressed up was called to the dean of students office and it was explained how his actions could make others feel singled out. He expressed regret."
Wall said Polisena did not violate any policies but "was counseled because of his very public behavior in the dining hall, not because of his Facebook photo which is a private matter the College has no control over."
Polisena changed his privacy settings on Facebook so that the photo is no longer public. He did not respond to a Fix inquiry for comment.
Alleged forced apology for student newspaper editorial 
Student journalists are fair game for Juniata activists, too.
The Juniata employee pointed The Fix to a Juniatian editorial saying that an "overemphasis on diversity" was problematic for hiring and admissions decisions, including the Stewards of Diversity program that puts a university employee trained in "diversity employment" on each selection committee.
The newspaper was criticized in comments on the Office of Diversity & Inclusion's Facebook page, and President James Troha held an open forum so students could express their concerns with the editorial, the Juniata employee said.
The newspaper's editor and author of the article, Dylan Stroman, responded to criticism of the editorial in several posts on the Office of Diversity and Inclusion post (identified as "Dylan Jacob").
Stroman, who has since graduated, did not respond to a Fix inquiry for comment.
Though The Juniatian asked for feedback on its editorial, the editorial board eventually apologized for causing "any pain" and lacking "the awareness and foresight required of us to ask those questions appropriately."
We the Juniatian Editorial Board, as a collection of individual members of the Juniata community, apologize sincerely to…

Posted by The Juniatian on Sunday, May 4, 2014
The Juniata employee insisted to The Fix that the administration forced the paper to issue the apology.
Wall told The Fix the editorial "appeared at a time where administrators felt that there was rising tensions on campus among all diverse populations," but that he wasn't aware of "any apology ultimatums or the editorial board conflict."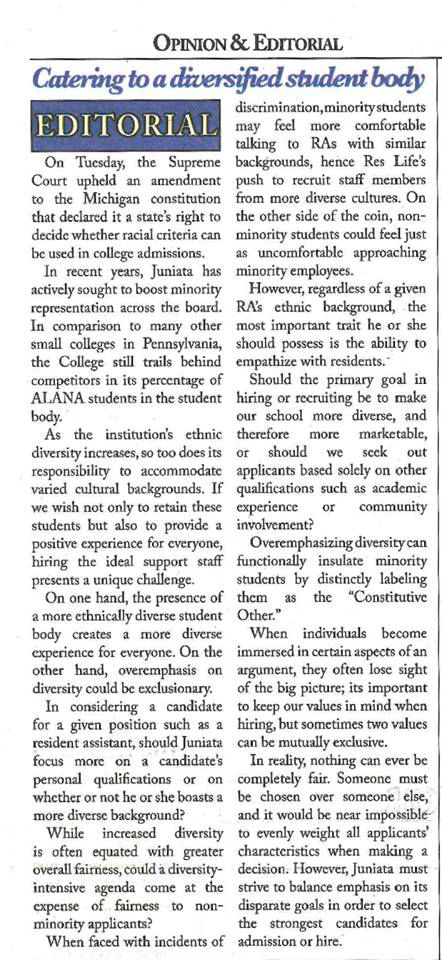 President: Don't reduce me to one tweet
The diversity programs continue into the spring semester, and they are not only for students.
A Feb. 17 lecture in Juniata's Beyond Tolerance series invites faculty and staff to learn about diversity in the classroom. It includes "the challenge of dealing with 'whiteness' (and, sometimes, white students)."
Wall touts the successes of the diversity programs, noting activism's historical roots at Juniata.
"The Stewards of Diversity has been an unqualified success and resulted in much more wide-ranging and less parochial job searches and hires," he said. "The Activists in Residence was a popular program and their public presentation was well attended."
In a statement to The Fix, President Troha also highlighted diversity, freedom of expression and an "environment of respect," although he sometimes shares partisan views publicly.
The smirk on Paul Ryan's face is irritating me. #SOTU

— Jim Troha (@JuniataPrzTroha) January 13, 2016
"We all bring our various perspectives to our work, whether they tend to be liberal or conservative, and one tweet [Troha's Paul Ryan post] does not reflect the complexity of an individual's political beliefs," Troha said in an email statement.
"Just as with our country, the diversity of opinion makes our campus environment stronger. And just as with most political views, and [sic] offhand statement tells little about deeper thinking on issues."
CORRECTION: This article originally misstated the name of the Black Lives Matter protest in New York City promoted by Juniata in 2014. It was called Millions March NYC. The article has been amended. The controversial Juniatian editorial has also been posted.
Like The College Fix on Facebook / Follow us on Twitter
IMAGE: Andrey_Popov/Shutterstock, BladeTucker/Shutterstock, The Juniatian screenshot