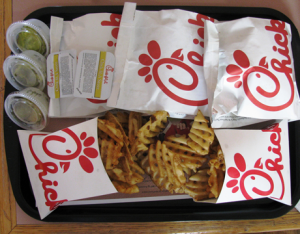 Seven students on IU-South Bend's campus filed complaints against IUSB Chancellor Una Mae Reck for allowing Chick-fil-A to vend at the two main dining areas on campus once a week.
The students filed the complaint because a Pennsylvania Chick-fil-A franchise donated food to the Pennsylvania Family Institue's seminar, "The Art of Marriage," an event perceived to support discrimination on the basis of sexual orientation. Reck suspended service to review the facts, but reinstated the vendor on February 2.
The students requested a public hearing, but their complaints have been forwarded to the IU Office of Procurement Services in Bloomington because they have authority over vendors, according to IUSB spokesman Ken Baierl.
IU-Bloomington has a Chick-fil-A in the basement of the Wells Library, which several students are working to remove. Senior and telecommunications major Tom Tahara supports removing Chick-fil-A from campus.
"This type of stuff just doesn't really fly that well in America anymore and I think this proves that the next generation realizes it and will not tolerate it," Tahara said.
Read the full story at the Indiana Daily Student.
See SFPA coverage of the gay student groups protesting Chick-Fil-a here.
Like The College Fix on Facebook / Follow us on Twitter