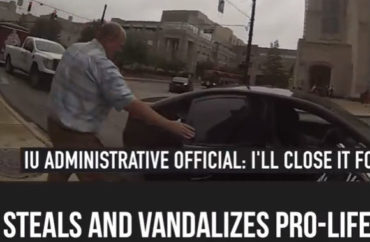 'I'll close it for you'
Three weeks ago, an Indiana University-Bloomington student was charged with disorderly conduct, vandalism and theft for trying to steal and vandalize signs by pro-life protesters.
The group, Created Equal, is known for displaying graphic images of aborted fetuses. Like a fellow pro-life group in Canada that claims to have been repeatedly attacked, it also records its demonstrations.
In video that captures student Thomas Metcalf stealing one of its signs, Created Equal also documented that university officials were on the scene – and one of them steps in at a crucial moment to apparently aid his getaway.
Who is he? Administration spokesperson Chuck Carney refused to tell The College Fix who he was or name the other administrators on the scene, or even explain why these government officials won't be identified.
"In the first week of Created Equal's Fall 2018 Road Trip for Life tour to more than 40 schools, our team has already faced increased violence toward property and persons," the group wrote in the description of its video:
The most shocking from Week One of the trip came at Indiana University (IU, Bloomington), where a student first stole our signs before returning to vandalize and destroy others showing pictures of aborted babies. Perhaps more disturbing than the student's actions was the failure of IU administration officials on site to intervene.
SHOCKING: Abortion Violence Caught on Film

Contact IU President Michael McRobbie (812-855-4613, [email protected]). Insist the administration apologize for failing to intervene and defend the rights of peaceful pro-life demonstrators.

Retweet this video!https://t.co/T4FwD7pBT7

— Created Equal (@createdequalorg) October 11, 2018
The person recording the video chases after Metcalf, who is putting the stolen signs in a black car. Metcalf curses at him as the pro-life protester removes at least one sign from the car.
At this point an older man enters the frame on the left, closing the car door. It's not clear if there are any more signs inside. He says "I'll close it for you." The caption then reads: "IU administrative official aids criminal activity."
The black car then drives away. Earlier footage shows another unidentified official telling Metcalf, who keeps spraypainting signs, that the university can't stop Created Equal from pressing charges against him.
There are some puzzling things about the video and the administration's explanation. For one thing, IUB doesn't say why there are multiple agents of the government monitoring a pro-life protest, which could be considered a chilling effect.
The Fix asked Carney to identify the official who closed the car door and explain why he did so, as well as identify the other officials who were present and explain their roles. The Fix also asked if IUB has a policy of sending out multiple officials to monitor pro-life demonstrations.
Carney sent a statement that said university staff and campus police took Metcalf into custody, and "other staff members" were working to "defuse the situation" between Metcalf and Created Equal. The run-ins between the Young Democratic Socialists of America activist and the pro-life protesters were "the only incident that rose to such a level" while Created Equal was on campus, he said.
Asked again to identify these taxpayer-funded IUB employees or at least give a reason to hide their identities, Carney did not oblige.
Police told Fox News that Metcalf "tried calling his mother and yelled into the phone about getting [a lawyer] before obeying commands to hang up." He previously led a campus protest against now-Supreme Court Justice Brett Kavanaugh.
SHOCKING FOOTAGE COMING SOON!

As the #RoadTripForLife finishes out their first week traveling through Indiana, our team encountered yet another attack from an abortion supporters. Stay tuned for the shocking video of pro-abortion violence! pic.twitter.com/Os17sjMrGM

— Created Equal (@createdequalorg) October 5, 2018
MORE: Police investigating university employee who allegedly assaulted pro-lifers
IMAGE: CreatedEqualFilms/YouTube
Like The College Fix on Facebook / Follow us on Twitter