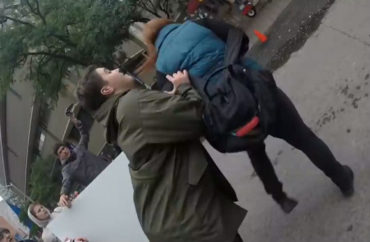 UPDATED
University has removed her email from employee page
The minute you step foot on a university campus, or just nearby, start recording everything.
That's the attitude of the pro-life group Toronto Against Abortion. On Friday it posted a six-minute video of its runs-ins with a Ryerson University abortion-rights group, the Reproductive Justice Coalition, as TAA pursues legal action against the group.
TAA member Blaise Alleyne told LifeSiteNews that the university has applied "interim measures" to the campus employee, student and coalition volunteer, Gabriela Skwarko, who allegedly assaulted a TAA female member, Katie Somers, at a peaceful protest earlier this month.
She's forbidden contact with Alleyne and must stay 100 meters from him "and any pro-life demonstration that I'm a part of while the student conduct office investigates the matter," Alleyne said.
Toronto police haven't named Skwarko a suspect as of Monday afternoon, only identifying her as a "person of interest," according to LifeSiteNews. Alleyne said "the detective is gathering and reviewing all of the relevant evidence," including from TAA, and he expects "charges will be laid."
He believes Skwarko was trying to provoke a violent response from TAA by attacking them. "We don't fight back. We de-escalate."
The person on video identified as Skwarko threw a "metal dolly" at Somers, chased her and jerked her around by Somers' backpack, reaching inside and removing a metal canteen that the attacker threw on the ground.
MORE: Pro-life group accuses Skwarko of assaulting them
The attacker continued shoving Somers, who appeared to be holding back tears, and then chest-bumped the person recording the video. An unidentified person keeps addressing her as "Gabby."
Skwarko works in Ryerson's Office of Social Innovation, which removed email addresses for its "assistant" employees including Skwarko after The Fix reported on allegations against her Oct. 11. Skwarko has still not responded to a Fix email.
She continues to list herself on LinkedIn as a volunteer for the Reproductive Justice Coalition.
In a Friday blog post, Alleyne said the Oct. 1 attack was the last straw for the pro-life group, leading it to post a compilation of clips of the Reproductive Justice Coalition's bad behavior:
Since November 2016, we've faced threats, assaults, thefts and other forms of pro-choice violence from the Ryerson Reproductive Justice Collective. We've followed up with Toronto Police and Ryerson University, and other legal action is ongoing. …

Our team members have never been the subject of a police investigation for our activism. The RRJC has falsely alleged that we have assaulted them. This is categorically untrue, and we challenge the RRJC to produce any evidence whatsoever to substantiate the false allegations.
The post identifies other coalition participants, some of them current or former Ryerson Students' Union officials like Skwarko, alleging theft, destruction of property and threats. Four were "cautioned by police" but weren't charged, and two were subject to unspecified sanctions by the union.
The university refused to investigate a student code complaint against one participant, Cassandra Myers, a former Ryerson Board of Governors member, according to TAA. Ryerson featured Myers on its news portal this spring:
On April 2, Myers received two awards at Ryerson's Student Experience Awards event: the Angela Ross Award (recognizing outstanding voluntary contribution to Ryerson's cultural and/or athletic life) and the Women in Leadership Student Award (recognizing a female student who demonstrates good academic standing, social activism and involvement with student group life at Ryerson).
Last Thursday The College Fix asked Ryerson if Skwarko was under university investigation and if the university had previously sanctioned the Reproductive Justice Coalition for using violence against its opponents, as TAA claims.
After a followup query Tuesday afternoon that also asked for its comment on the new names identified by TAA, a spokesperson declined to comment.
Read the LifeSiteNews report and TAA blog post.
UPDATE: A Ryerson spokesperson responded to Fix queries on Tuesday afternoon, declining comment.
MORE: Professor accused of bludgeoning pro-Trump protester arrested for felony
IMAGE: Toronto Against Abortion/YouTube
Like The College Fix on Facebook / Follow us on Twitter