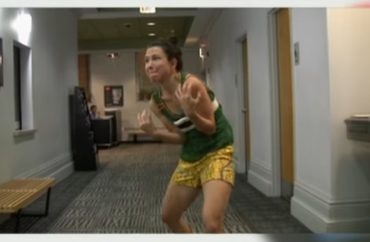 And holding her at gunpoint
Emily Johnson made several demands as a condition of participating in Montclair State University's contemporary art series Peak Performances.
The indigenous artist not only asked Peak Performances to adopt a "land acknowledgment" and start a "land rental fund" for the Lenape tribe that previously occupied MSU's land, but she demanded the whole public New Jersey university start the "decolonization" process.
When the administrator in charge of the series balked, Johnson compared the experience to being raped and held at gunpoint.
Montclair State pushed back in a public statement Thursday, two weeks after her accusatory Medium post, accusing Johnson (above) of repeatedly refusing to accept that MSU's Office of Arts and Cultural Programming has no authority to meet her demands.
"PEAK intentionally seeks out emerging artists, artists from underrepresented backgrounds, and artists whose work challenges established norms and practices," giving them "complete artistic freedom," the university wrote.
ACP, as the office is known, approached Johnson in 2019 to discuss "the possibility of a two-year residency" that would fund her creation of an original artwork and let her work with faculty and students.
Johnson and her business manager sprung "absolutely non-negotiable" demands on ACP's director, Jedidiah Wheeler, as negotiations progressed, the  university said.
Wheeler and ACP "repeatedly explained" to them that it "cannot make policy for the whole institution" or "formulate and adopt important policy decisions by means of a contract with a particular performing artist." That would circumvent the consultation process with stakeholders across Montclair State, which "culminates in the formal approval of new programs and policies."
MORE: UMD department forces profs to acknowledge they're on 'stolen land'
Politico reporter hides rape and gun violence comparison
The university turned the tables on Johnson, asking why she didn't use the "complete artistic freedom" that Peak Performances offers every artist to make her own land acknowledgment.
Even after ACP secured a $25,000 grant from the National Endowment for the Arts for Johnson to produce "two online symposia" this year, she refused to produce the symposia, citing her non-negotiable demands, according to the university.
Johnson claims Peak Performances is "under contract" to pay her the money, regardless of her output. She characterized the symposia as "two zoom meetings."
Her comparison of hardball contract negotiation to rape and gun violence are based on Wheeler's angry reaction to her demands in a conference call when they were still negotiating. She said he "responded immediately and violently," denied knowing what "decolonization" means, and "did not stop yelling until he hung up on us":
I understand the abusive, punishing, and unethical behavior I have witnessed and experienced from Jedidiah Wheeler and Peak Performances to be part of a field wide system that continues to root itself in extractive capitalism and white supremacy. …

The aggression, the refusal over the course of 15 months to move a commission to contract, and a refusal to make full payment for delivered work leads me to understand Peak Performances as an unsafe and unethical place to work.
Wheeler, who is white, "acknowledges that he spoke forcefully and in frustration at one point during a difficult contract negotiation session," when Johnson and her manager refused to accept that his authority was limited, but he "did not use inappropriate language, and he never denigrated Ms. Johnson," according to the university statement.
Politico reported late Friday that "current university employees" are circulating a letter in support of Johnson, and "[s]everal former employees" told the news outlet that her allegations against Wheeler ring true to them.
But Politico reporter Carly Sitrin left out Johnson's most inflammatory comparisons – that Wheeler angrily hanging up on her is tantamount to raping her and holding her at gunpoint. (Johnson said in the Medium post that she had been "raped twice" and had looked "into the eyes of men who held assault rifles pointed at us.")
Lawyer Samantha Harris, a senior fellow at the Foundation for Individual Rights in Education, was bowled over by Johnson's characterization of the interaction with Wheeler and her subsequent demands.
And now, because his yelling is "part of a field wide system that continues to root itself in extractive capitalism and white supremacy," she wants to know "what apology and monetary remuneration will be offered."

— Samantha Harris (@samk_harris) February 8, 2021
Read Johnson's post, MSU's response and the Politico report.
MORE: UM-Twin Cities formally recognizes it sits on Native American land
h/t Inside Higher Ed
Like The College Fix on Facebook / Follow us on Twitter