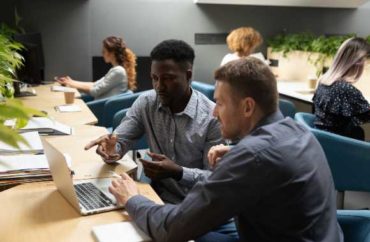 '72% of young adults with degrees believe college didn't fully equip them to start their career'
A new report highlighted the role of professional industry apprenticeships in bridging the divide between worker education and on-the-job skills.
A November study by Multiverse, a global apprenticeship training program, surveyed 500 adults aged 18 to 26 about their learning opportunities, workforce readiness, college degree impact, and interest and awareness of apprenticeships.
"Apprenticeships can plug the biggest gaps between education and careers," according to the study.
One employment mentor and entrepreneur concurred. Michael Gibson founded the 1517 Fund to guide and invest in college drop-outs or those who chose not to attend.
"By giving rookies a chance to learn from the pros on the job, apprenticeships give young people starting their careers a much better opportunity to learn the foundational skills they need directly, instead of relying on failing schools and colleges to teach them outdated lessons or poisonous ideology at a luxury price," Gibson told The College Fix via email Jan. 6.
According to the Multiverse study, "72% of young adults with degrees believe college didn't fully equip them to start their career." Additionally, nearly half of students surveyed said that they felt expected to go to college after high school; however "three-fourths would skip college if their dream job was available without a degree."
Nonetheless, about three quarters of survey respondents believed that a college degree is required; that included nearly 80 percent without a degree. However, six in 10 young adults believed that workforce experience "is the most crucial element to prepare for a successful career," according to the survey.
The report detailed the success of apprentices in general as well as those in particular corporate programs.
"92% of apprentices retain employment after completing a Registered Apprenticeship, with an average starting salary of $72,000," the report stated, citing data from the U.S. Department of Labor.
Even more, the authors stated, "more than 80% of employers who sponsor apprenticeships are able to meet their skills demands," according to a 2009 study by The Urban Institute Center on Labor, Human Services and Population.
A "Registered Apprenticeship is an industry-driven, high-quality career pathway where employers can develop and prepare their future workforce, and individuals can obtain paid work experience, receive progressive wage increases, classroom instruction, and a portable, nationally-recognized credential," according to the Department of Labor's website. "Registered Apprenticeships are industry-vetted and approved and validated by the U.S. Department of Labor or a State Apprenticeship Agency."
More than 90 percent of participants in a Verizon's own, corporate professional apprenticeship program, Verizon Thrive (co-founded with Multiverse), accepted full-time offers and will continue at the company after their apprenticeship, "contributing a $5+ million estimated impact to Verizon's global business," according to the report.
The Fix reached out to Verizon via email on January 11 to ask for more information on the structure and benefits of Verizon's apprenticeship program but has not received a response.
The Fix also reached out to the University of North Carolina to ask whether the value of a degree outweighs the cost and whether it has plans to expand its experiential learning opportunities. No response has been received.
Some states have eliminated degree requirements for government jobs, encouraged apprenticeships
Some U.S. states, including Maryland and more recently Utah, have eliminated degree requirements for government positions while bolstering apprenticeship opportunities to bridge the experience gap.
"Utah will no longer require a bachelor's degree for about 98 percent of its civil servant jobs, according to a recent decision by the state's Republican governor," The Fix reported in December.
State funds will be used to "reimburse employers who cover customized training" and to support "apprenticeship programs in functional areas such as IT, healthcare, electrical, and others," Utah Gov. Spencer Cox stated in a press conference.
Paul Winfree, a former director with then-President Trump's Domestic Policy Council, and colleague and Heritage Foundation researcher Rachel Greszler, wrote in a June Wall Street Journal op-ed that apprenticeships are a solution to post-pandemic unemployment, The Fix reported.
They also wrote that a Trump administration program to expand industry-driven apprenticeships, canceled by President Joe Biden, should be revived to boost opportunities beyond the trades.
"In March 2017 [the Trump administration] initiated Industry-Recognized Apprenticeship Programs, which created a new pathway for more flexible, industry-driven alternatives. This quickly led to more than 130 new apprenticeship programs predominantly in high-demand fields with worker shortages, such as nursing," Winfree and Greszler wrote in the Journal.
However, "President Biden canceled the initiative and directed the Labor Department to revert to the government-monopoly apprenticeship model that has failed to expand beyond male-dominated manual-labor trades," they continued.
"Congress should immediately revive the [Industry-Recognized Apprenticeship Model], which is perfectly tailored to what ails our workforce today," the authors opined.
MORE: Bachelor's degrees have become optional for more jobs across industries
IMAGE: fizkes/Shutterstock
Like The College Fix on Facebook / Follow us on Twitter