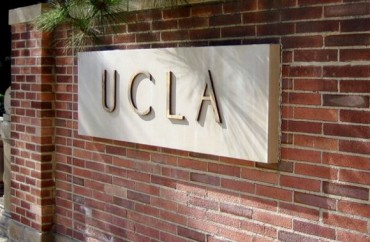 LOS ANGELES, Calif. – Numerous empty seats peppered the large lecture hall. Multiple students strolled into class late while others trickled out early. That was the scene on a recent Wednesday night as lecturer Keith Fink taught his popular class on free speech at the public university.
While there are plenty of seats available for many more students to take the class, more than 40 students have been blocked from this popular UCLA course.
The course's lecture hall holds nearly 300 seats, but just 200 of the 241 students who tried to sign up for the class were enrolled. That's left more than three dozen students shut out of a course taught by a professor focused on teaching students the value of the First Amendment.
Such is the situation in Fink's "Communication Studies 167: Sex, Politics, and Race: Free Speech on Campus."
The class made headlines recently after Fink, a conservative who openly criticizes campus administrators during his classes for what he contends is their violation of students' free speech rights, claimed his department is keeping students who are attempting to add the course from enrolling in it because of political bias.
The chair of the department says it's about maintaining "reasonable class sizes across the major."
Fink's not buying it.
"This is nuts. They are penalizing the students to get at me," he said.
"I believe my role is to test students' beliefs they're holding at a young age, to probe the reasons for their belief, to criticize views they may have, to expose them to other views. That's my role," Fink told The College Fix.
The labor and employment lawyer added his job as a professor is "not to tell [students] how to think. It's to make them think."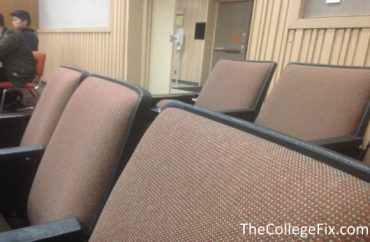 The "Free Speech" course, which Fink has taught for nine years, focuses on "how the First Amendment, case law, state statutes, and federal statutes affect students' and teachers' ability to express themselves both on and off campuses," per the syllabus.
(Pictured: Empty seats in class students seek to enroll in)
Course readings in part include a textbook written by Fink as well as case law. Class topics touch on harassment issues, speech codes, campus protests, the rights of student publications and due process rights, among others.
The course, held on Wednesday nights, delves into controversial, timely campus issues. For instance, a list of nearly two dozen discussion topics on the syllabus includes questions such as "Should teachers provide trigger warnings before [discussing] a topic that some find sensitive?" and "Can students be punished for burning the American flag?"
Fink, a former college debate champion, employs the "Socratic Method" in his teaching, guiding discussion and pushing students on the topic at hand.
And during a recent class, he wasn't shy about offering his own opinions. However, he also encouraged students multiple times to do their own fact checking and research.
Fink also isn't afraid to voice his opinions in class about issues at UCLA. During the Feb. 22 class attended by The College Fix, Fink questioned the mission of the university's division of Equity, Diversity and Inclusion.
"I think it's more exclusion for people who have conservative views or perhaps Jewish views, but I'll let you guys make that conclusion," Fink said.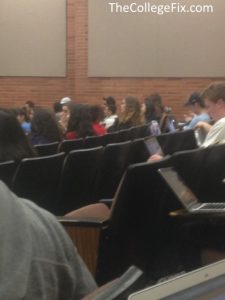 During class, Fink read aloud a "CrossCheck" written last spring by Jerry Kang, UCLA's Vice Chancellor for Equity, Diversity and Inclusion. Kang alleged that posters posted on UCLA's campus by conservative activist David Horowitz accused the Muslim Student Association and Students for Justice in Palestine "of being murderers and terrorists."
Fink disagreed with Kang's allegation and his description that the posters were "hostile."
"Hostile posters. What does that mean — hostile? Why are they hostile? [It's] political advocacy and who cares if they're hostile," Fink said.
He also focused on the language Kang used as he read the "CrossCheck" post line by line.
"I have a big problem with the wording because I believe you're being threatened," he told his students.
Class discussion later pivoted to a recent controversial cartoon published in UCLA's student newspaper, the Daily Bruin, that included Israel's Prime Minister Benjamin Netanyahu. The newspaper later apologized for running the cartoon after some found it anti-semitic.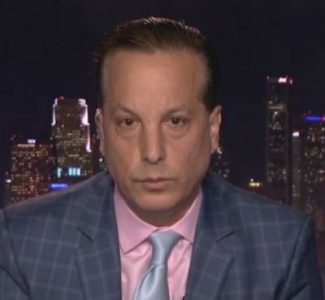 Fink told the class he thinks the newspaper should've have published the cartoon without an apology, but questioned the university's lack of response given Kang's post on Horowitz's posters.
"So, if I don't see a rebuke, I just put two and two together … there's some kind of viewpoint discrimination going on here," he said. "Somebody has to give me another explanation. Why isn't there a whisper that there's a problem here?"
A UCLA grad himself, Fink (pictured) said his own "intellectual training" at the school came from his involvement in debate where his coach "pushed him on both sides of the issue."
That notion of pushing both sides of an issue is something higher education has lost, Fink said.
"It has lost the marketplace of ideas because there's only one stream of thought that's acceptable. And yes, teachers will not provide a balance," he told The College Fix in an interview.
As for the fight regarding his class size, Fink said the UCLA administration is giving him a "complete runaround."
Kerri Johnson, his department chair, previously told The Fix the enrollment situation is based on ensuring "reasonable class sizes across the major."
Fink, who's taught more than 200 students in the past, said Johnson's statement doesn't hold merit.
"Where's the problem? I haven't voiced a problem. [My Teaching Assistant] hasn't voiced a problem. Prior assessments, there was no problem," he said.
MORE: UCLA students step on U.S. flag in protest of Bruin Republicans event
Like The College Fix on Facebook / Follow us on Twitter
IMAGE: Shutterstock