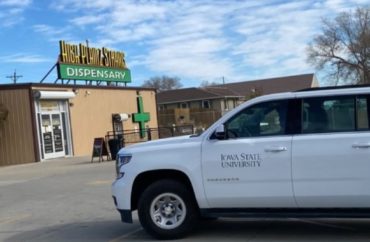 Social media post by third-party led to university attention
Iowa State University officials sanctioned the men's lacrosse club after it parked near a marijuana dispensary in Colorado while there for a game against the Air Force Academy.
The punishment drew the attention of the Foundation for Individual Rights and Expression which sent a letter Friday to ISU. The incident happened in November when the men's lacrosse team parked a university van near a pot shop while getting lunch in Colorado.
The punishment included a ban on students using their personal cars to travel for competition, according to FIRE, though that is not clearly stated in the emails provided in the group's letter. One student was also caught driving the van around a speed of 100 miles per hour which led to a speeding ticket, though that is not mentioned in FIRE's letter.
The letter stated:
In November 2022, the ISU Barstool Instagram account posted a since-deleted photo of an ISU vehicle used by the club lacrosse team parked in front of the High Plainz Strains Dispensary, a marijuana dispensary lawfully operating under Colorado state law. The team rented the vehicle from ISU for a game in Colorado Springs, parked in front of the dispensary before entering a restaurant in the vicinity, and was unaware someone took a photo of the vehicle and sent it to ISU Barstool. The team members did not enter the dispensary or buy its products.
FIRE further reported:
On December 8 Senior Assistant Director of Sports Programs Nathan Pick and Sports Clubs Coordinator Landon Wolfe suspended the team from using personal or university vehicles for team travel through May 2023. Pick claimed his "[o]verall concern" is "poor representation" and students creating a "negative reputation for Iowa State University." He stated that the ISU Sport Clubs Manual "outlines possible infractions including 'Displaying conduct that is incompatible with the University's function as an educational institution and the purpose of the Sports Club Program.'"
University officials "did not charge the team with violating any specific university policies
or provide an opportunity for the team to contest the allegations," according to FIRE.
The free speech advocacy group said the university violated the due process rights of students and asked for a response by February 17.
MORE: ASU professors call conservative speakers 'purveyors of hate'
IMAGE: Foundation for Individual Rights and Expression
Like The College Fix on Facebook / Follow us on Twitter