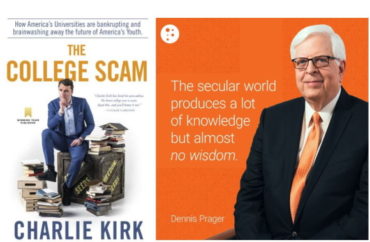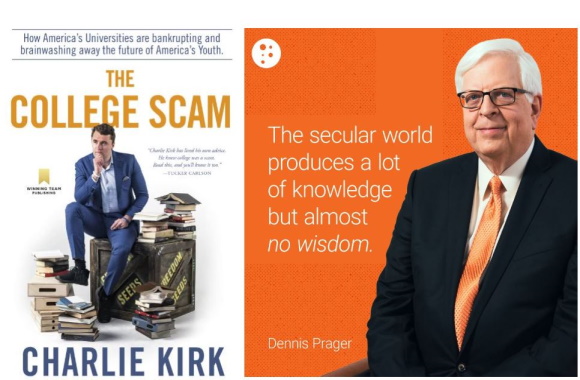 A cadre of Arizona State University professors have expressed outrage over an upcoming campus talk that will feature popular conservatives Charlie Kirk and Dennis Prager, calling them "purveyors of hate" and urging campus leaders to disavow the event.
The "Health, Wealth & Happiness" panel Feb. 8 will also feature Dr. Radha Gopalan, a heart transplant cardiologist, and finance expert Robert Kiyosaki. It will be hosted by the T.W. Lewis Center for Personal Development, which is housed in Barrett, The Honors College, at ASU.
A Feb. 1 letter reportedly signed by 35 of the 46 faculty of the honors college denounce Kirk and Prager as "purveyors of hate who have publicly attacked women, people of color, the LGBTQ community, as well as the institutions of our democracy, including our public institutions of higher education.
"By platforming and legitimating their extreme anti-intellectual and anti-democratic views, Barrett will not be furthering the cause of democratic exchange at ASU, but undermining it in ways that could further marginalize the most vulnerable members of our community."
The letter states the professors seek to express a vote of no confidence in the T.W. Lewis Center for Personal Development, and while they do not want the event canceled, they called on top campus leaders to "distance" themselves from it.
However, three ASU professors have written a scathing rebuttal of their peers' complaints.
"Faculty letters like the one condemning Dennis Prager and Charlie Kirk reinforce campus conformity and function as a not-so-subtle way to intimidate and silence would-be dissenters among the faculty and student body. Many choose to self-censor out of fear of ostracization and even retribution. This is extraordinarily destructive to the free and open exchange of ideas," wrote ASU history Professors Jonathan Barth and Donald Critchlow and philosophy Professor Owen Anderson.
Writing their rebuttal in the Daily Wire, the three scholars summed up their peers complaints about Kirk and Prager:
The letter implies that any of the following views would render one unfit for speaking at a university:

Dissenting from radical gender ideology
Questioning the official lockdown narrative during COVID
Questioning the soundness and efficacy of Big Pharma research and shots
Thinking that a mother and father in the home is ideal for a child
Encouraging young people to get married and have children
Objecting to the methods and solutions of the BLM organization
Questioning the hyper-racialist ideology of "anti-racism"
Questioning the handling of particular elections (unless the wrong candidate wins, then it's ok)
Objecting to the exploitation and sacralization of January 6
Challenging the presumption that in order to be happy and successful you MUST go to college
"Such views, according to the letter, are 'bigoted,' 'anti-intellectual,' and 'extreme.' The irony, of course, is that the most anti-intellectual position one could take is to demand a captive mind and universal conformity to a rigid and suffocating set of dogmatic precepts, and then to throw a fit if someone dare utter a contrary view," the three professors wrote.
"One need not agree with all or most of what Prager and Kirk believe in order to defend their opportunity to speak at a public institution and the opportunity of others to hear what they have to say."
Prager has launched a petition to defend his appearance at ASU. It states in part that "Barrett's faculty — who are supposed to be professional adults responsible for the education and development of our young people — are offended and outraged that Dennis Prager, Robert Kiyoski, and Charlie Kirk would be given an opportunity to share insights about the human pursuit of 'Health, Wealth & Happiness.'"
"Condemn censorship of free speech, especially on college campuses, and encourage Barrett's faculty to do the same."
MORE: Riot police deployed to quell protest against conservative event at UNM
Like The College Fix on Facebook / Follow us on Twitter