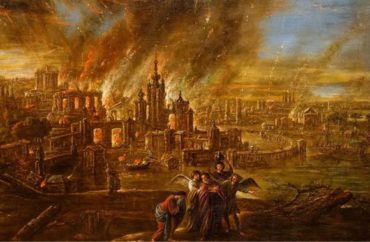 'Can God be an ally in queer worldmaking,' course asks
The University of Chicago once attracted influential thought leaders like Milton Friedman, Antonin Scalia and Leon Kass.
Now it offers a course this upcoming semester with a nonsense question – "Is God queer?"
As first reported by the Chicago Thinker, the course posits questions and ideas such as:
"Can God be an ally in queer worldmaking? Is God queer? What does queerness have to do with Judaism, Christianity, or Islam?" The description continues by explaining that the class "introduces students to foundational concepts in queer and trans studies by focusing on queer Jewish, Christian, and Islamic theologies."
We can know God isn't "queer" because He destroyed Sodom and Gomorrah at least partially because of its homosexual conduct (see painting in featured image).
That has not stopped Olivia Bustion from offering the course.
It is probably worth knowing that Bustion's English doctoral thesis from the University of Michigan focused on the homosexual tendencies of a British poet named W.H. Auden. She titled her paper "Queering the City of God," a play on St. Augustine's famous work, ironically, about leaving a life of immoral conduct.
Her thesis relied on the work of Leo Bersani, an essayist who published a collection titled "Is the Rectum a Grave?"
Bersani wrote one of the "foundations of queer theory," according to the University of Chicago Press, which published his works.
Auden, according to the thesis, wrote a "prayer [that] gives gay sex a place in Christian worship."
In her thesis, she "examines key moments in Auden's conceptualization of a calling that aligns the charism of same-sex eros with anti-imperialist prophetic critique—from the prayerful question of 'In Sickness and in Health' to the playful answer of 'The Garrison.'"
The problem with the course is not just its fundamentally flawed assertion that God could be "queer," but that it is given an air of respectability by the University of Chicago.
When we see a course about feminism and Beyonce at Rutgers University, we know, in a way, that the course is silly.
But when the University of Chicago offers a course that poses an unserious question, it seems like it is respectable. Much in the same way medical publications publish political activism that seems like it is academic research.
Some conservatives probably view the university a little more favorably than other liberal universities because it has a history of being welcoming to center-right views on economics or because it has supported free speech. But this course, and the news that the university rejected a Turning Point USA club, shows that the school continues to slouch toward mediocrity.
MORE: Study blames Trump for 'fear' among LGBT people
IMAGE: Public Domain
Like The College Fix on Facebook / Follow us on Twitter