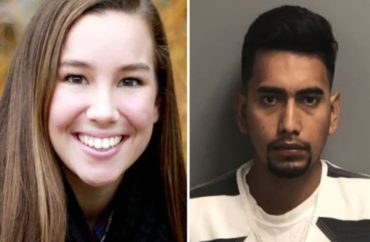 The Ithaca College Republicans faced massive backlash and were accused of supporting racism following a strongly worded statement the group put out in support of stricter immigration policies following Mollie Tibbetts' murder.
In their Sept. 4 statement, "Mollie Tibbetts unable to begin fall semester after illegal immigrant murders her," the Ithaca College Republicans condemned illegal immigration and motioned for stricter border policies. They also mentioned Tibbetts is "just one of a long list of American citizens who have been slain by the viciousness that is illegal immigration."
"Illegal immigrants come to our country and have no respect for the rule of law. They smuggle in drugs, dismantle communities and abuse the welfare state," the statement added. "The role of government is to protect its citizens and uphold the rule of law, this starts with protecting the border and enforcing a strict immigration policy."
They ended their statement by quoting President Donald Trump, who said: "Mollie Tibbetts, an incredible young woman, is now permanently separated from her family. A person came in from Mexico illegally and killed her. We need the wall. We need our immigration laws changed."
In response, a Sept. 12 editorial in the campus newspaper The Ithacan slammed the College Republicans for their statement.
The editorial starts with a cartoon drawing showing an elephant stomping around with Tibbetts' parents in the background holding a sign that says "we miss our daughter Mollie Tibbetts." The drawing also attributes a quote to the elephant that says "this singular tragedy supports my racist ideas and I will ignore the family's grief to justify them!"
Our press release on the recent horrific tragedy in Iowa. #BuildTheWall @IthacanOnline @NYCRs @yaf @CRNC pic.twitter.com/3edAOhDwk0

— IC Republicans (@ICRepublicans) September 4, 2018
The editorial then goes on to mention that many conservatives have used the fact that Tibbetts' alleged killer is an illegal immigrant to "control undocumented immigration and build a wall along the U.S.-Mexico border," and that the College Republicans group "was no exception" because of their statement.
Additionally, the editorial board rebutted the College Republicans' claims against illegal immigrants, citing studies to compare crime rates with American citizens, and faulted the group for stereotyping illegal immigrants.
"IC Republicans' argument goes beyond conservative principles — it is a gross display of the [sic] racism and xenophobia," the editorial board stated. "IC Republicans president Lucas Veca denies that the group's statement is racist. But if attributing negative characteristics of some members of a race to the race as a whole constitutes a form of racism, then this statement certainly qualifies."
Furthermore, the editorial board bashed the group for being insensitive to Tibbetts' death, saying that on "top of being explicitly racist, IC Republicans' statement is also insensitive and disrespectful to Tibbetts and her memory," and cited an article that Tibbetts' father wrote asking people not to politicize the tragedy.
However, they did not mention that Veca said that he was not aware of the father's op-ed in another article in The Ithacan. In it, Veca refutes the claims that the group tried to capitalize on the situation, saying, "[w]e did this because we wanted to start a conversation about immigration," and that he "wouldn't say this was racist at all."
In an interview with The College Fix via Facebook, the College Republicans group was apologetic, saying that their message going forward is that they are "sorry for contributing to the politicization of Mollie Tibbets' death and that we believe broad generalizations about illegal immigrants are wrong."
"We hope that our college community can move forward from this in a more positive direction on immigration and we welcome debate on the issue," they said.
Ithaca College did not respond to a request for comment from The College Fix.
MORE: University library system avoids term 'illegal aliens'
Like The College Fix on Facebook / Follow us on Twitter