A controversial new ad campaign by Nine West has upset some feminists because, well – it doesn't take a lot to upset feminists nowadays.
But anyway, the ad campaign includes several expressions that have angered some women for selling "starter husband hunting" shoes in one and "first day of kindergarten shoes" in another. Other women, myself included, see it for what it is: a humorous and clever marketing ploy.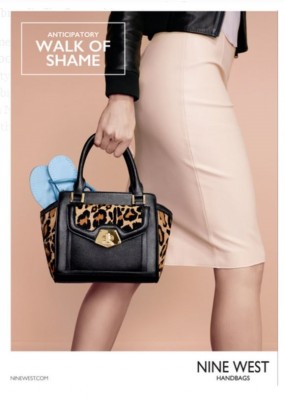 But here's the thing that caught my eye: In one of the ads, there's a lady carrying a bag with Nine West flip flops hanging out the top and the words "Anticipatory walk of shame."
The term "walk of shame" is most notably found in the college scene. Simply put, it's the walk a young woman might have to endure from the frat house/dorm room/apartment (or wherever) back to her place after a night of partying and sexual indiscretions.
You're wearing the same clothes as the night before, your hair's a mess, it's 7 in the morning – and pretty much anyone who glances at you can surmise you're headed home after a one-night stand.
Jen Drexler, senior vice president at the Insight Strategy Group and co-author of What She's Not Telling You, told The New York Times that she found the ad campaign off-putting.
"'Starter husband hunting' and 'walk of shame' is not the sort of thing you say out loud even to your best friend, because those are things that men say about women, not that women say about women," Drexler said. "If you really liked women, you'd be calling that a 'victory lap,' not a 'walk of shame.' "
She's wrong. "If you really liked women," you'd tell them the truth, that they deserve to be treated much better.
A victory lap is something you do when you've just gotten engaged. A victory lap is something you do when you land your dream job. A victory lap is something you do when you cross an item off your bucket list.
In all my years of college I never had a friend come home hung over, having just had meaningless and probably piss-poor sex with some random frat guy, with her head held very high. Meanwhile, the guy's bragging to his buddies that he just got laid. As far as how she got home, it isn't always something he gives too much thought.
I've said it before and I'll say it again: In the modern campus hookup culture, women sell themselves far too short.
When it comes to these Nine West ads, feminists don't like them because they hit too close to home. There's a truth behind them.
Most women do want to look nice to attract a husband – shocking, I know. And most women do feel shameful when they choose to have casual sex with a guy who lets them walk home alone after such an intimate act (whether they admit it to themselves or not).
As far as the ad goes – it's just arguing not to add injury to insult. If you're faced with a walk of shame, don't do it in last night's heels.
Jennifer Kabbany is editor of The College Fix (Follow Jenn on Twitter @JenniferKabbany)
Like The College Fix on Facebook / Follow us on Twitter
IMAGE: Main, J. Novak/Flickr; inside – Nine West via New York Times