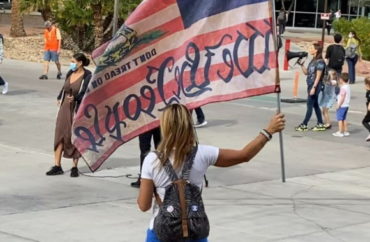 Admits he misread the situation on college campuses
A National Review writer and former College Fix contributor recently explained about how he misread the situation on college campuses.
Luther Ray Abel wrote a new column addressing how he changed his mind from a year prior, when he urged conservatives to respectfully but courageously defend political beliefs on their campus.
Abel's commentary is welcomed and echoes an argument I made last year about conservatives joining fortress colleges (Liberty, Benedictine, Steubenville) not being on an island (every other university). Welcome to the team.
He wrote on June 25:
I severely underestimated the alienation and personal costs for residential right-leaning students within these schools — schools that do not want them but will gladly take their tuition money — costs that I observed in friends and peers during the final year of my undergrad instruction at Lawrence University, a small liberal-arts school just like so many others in the Midwest and Northeast.

It took a friendship with a freshman and the observation of a pro-life group's torturous multiyear application for recognition to grasp this — hardly a sparkling endorsement of my observational skills but helpfully illustrative of a young person's plight at such schools.
Abel became friends with a young conservative on campus who repeatedly had trouble getting his pro-life group approved. The student also shared with Abel stories of campus diversity training.
The National Review writer explained that one blind spot he had is that as a married Navy vet who lived off-campus, he was not in the middle of university politics as much as other students.
"This is not the reality for most students, and I should have been more aware of how lonely and miserable existence within politically hostile environs can be," Abel wrote.
Even conservative students in the middle of the chaos do not see it
His change of mind is appreciated. And in fairness to him, I should point out that in my experience even students in the middle of campus politics can feel more optimistic than they should.
For about five years before I joined The College Fix, I helped different conservative student groups get started or host displays, which often included pushing back against university bureaucrats and student government (actually this is how I met my wife).
Inevitably, some students would have their group denied and then be timid (not my wife) about taking action to reverse the decision. These could include going to the media, having the Foundation for Individual Rights and Expression send a letter or setting up a meeting with student senators.
"I don't want my peers to not like me," the students would say. Or, "I want to maintain a good relationship with these student senators," they'd say. They could not see that the relationship only went one way – their peers already did not like them.
They already did not have a good relationship – that is why their peers denied the club.
The leftist students do not want conservatives around – and we should not pretend they do.
MORE: Eight percent of recent Dartmouth grads are conservative, survey finds
IMAGE: The College Fix
Like The College Fix on Facebook / Follow us on Twitter