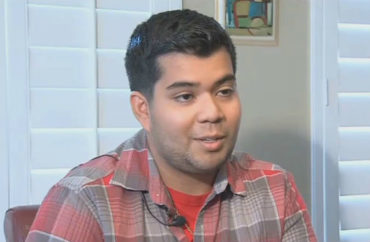 Wanted videos of young girls, had sex with boy
An internationally renowned anti-rape activist at Columbia University – reportedly nominated for the Nobel Peace Prize – has been allegedly living a very dark secret life.
The Justice Department charged student Joel Davis with various child-pornography offenses, attempted sexual exploitation of a minor and "enticement" of a minor this week.
Davis is well known as an anti-rape activist on campus, starting the group Youth to End Sexual Violence and serving as chairman of the International Campaign to Stop Rape and Gender Violence, according to the Columbia Daily Spectator.
His alleged crimes including sharing "explicit images of infants engaged in sexual activity" and soliciting sexually explicit videos of a 9-year-old girl from an undercover officer, U.S. Attorney Geoffrey Berman said.
Davis told undercover officers this month that he was sexually interested in children and texted them images including sexual activity between "infants and toddlers" and adults. He also discussed his intention to participate in sexual activity with the 2-year-old daughter of an officer's girlfriend, according to the Justice Department.
The charges together carry a mandatory minimum of 30 years in prison, not taking into account the charge for receipt and distribution of child porn, which has no minimum but a 20-year maximum. Just the enticement charge carries a maximum of life in prison.
The Spectator said Davis allegedly confessed after his arrest to having sex with a 13-year-old boy. He wrote several columns for the student newspaper, including one claiming that he was a victim of sexual abuse and that he currently dated men.
According to The New York Times, the group that Davis co-founded was the result of a global summit on sexual violence organized in part by actress and U.N. special envoy Angelina Jolie.
Three years ago, a local TV station claimed that Davis – then 19 – had been nominated for the Nobel. The committee that gives out the prize does not release the names of nominees until 50 years after their nomination, according to the Times.
He gave a TEDx Talk this spring.
Join me for #TEDxColumbiaUniversity on April 22nd in NYC, where I'll be talking about sexual violence in conflict.There's going to be so many amazing speakers — I can't wait! @Columbia @ColumbiaGS pic.twitter.com/KEKIa2Lf7Q

— Joel A. Davis (@JoelAndrewD) April 6, 2018
Read the charges and Spectator and Times reports.
IMAGE: NBC2 News/YouTube
Like The College Fix on Facebook / Follow us on Twitter